US election: Johnson to run as Libertarian candidate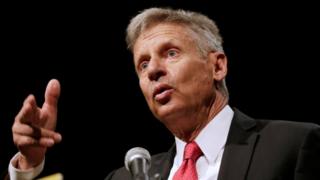 The Libertarian Party in the US has nominated Gary Johnson as its presidential candidate.
The former New Mexico governor won in the second ballot at the party's convention in Orlando, Florida.
The field also included businessman Austin Petersen and antivirus software company founder John McAfee, who once fled Belize after police sought to question him in a murder case.
Mr Johnson was the party's candidate in 2012, gaining 1.2m votes - under 1%.
Mr Johnson told Libertarian delegates that his honesty would appeal to disaffected voters in the November election.
"I tell the truth, I am not a liar," he said.
The self-made businessman was elected New Mexico governor in 1995 as a Republican and worked to lower taxes and reduce bureaucracy, while pushing for the legalisation of marijuana.
His vice-presidential running mate will be chosen in a later vote.
As a Libertarian, he has called for the abolition of the Internal Revenue Service and replace income tax with a national sales tax.
His party has struggled to win over voters since it began running in presidential elections in 1972, winning 1% of the vote in its most successful result in 1980.
But it is aiming to capitalise on the deep unpopularity polls show among voters for presumptive Republican nominee Donald Trump and Democratic front-runner Hillary Clinton.