US elections: Bernie Sanders to meet Clinton 'soon'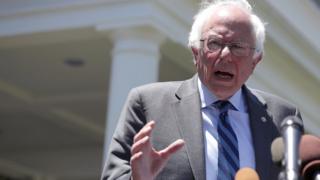 After speaking with President Obama, Bernie Sanders has said he will meet Democratic front-runner Hillary Clinton "soon" but has not endorsed her.
He said he and Mrs Clinton would be meeting to discuss their common goal of defeating Republican presumptive nominee Donald Trump.
The Vermont senator virtually has no path left to the Democratic nomination but has not formally dropped out.
Mrs Clinton has captured enough delegates to become the nominee.
Speaking outside the White House after his meeting with the president, Mr Sanders detailed a list of issues he plans to bring to the Democratic convention in July.
He said the United States, as the wealthiest nation in the world, should not have students in huge amounts of debt and seniors and veterans without adequate social security benefits.
Before his talks with Mr Sanders, Mr Obama said he hoped the Democrats would "pull things together" after Mrs Clinton became the party's presumptive nominee for president.
Mr Sanders has said he will participate in the District of Columbia primary on 14 June, despite pressure to step down from party figures.
Mr Obama stopped short of calling for Mr Sanders to drop out, instead saying the Vermont senator had made Mrs Clinton a "better candidate".
The president is tipped to formally endorse Mrs Clinton and call for the party to unite against Mr Trump.
Speaking on NBC's Tonight Show, Mr Obama admitted the race had been "ouchy".
But he went on to say that this was welcome.
"It was a healthy thing for the Democratic Party to have a contested primary," he said.
"I thought that Bernie Sanders brought enormous energy and new ideas. And he pushed the party and challenged them. I thought it made Hillary a better candidate."
He added: "My hope is, that over the next couple of weeks, we're able to pull things together."
Mrs Clinton won four out of six primaries on Tuesday.
CNN reports that Mr Sanders will meet Vice President Joe Biden later on Thursday.
He will also meet Democratic leader Harry Reid, who has urged him to drop out.
"Sometimes you just have to give up," Mr Reid said earlier this month.
Mr Sanders will headline a Washington rally on Thursday evening.
---
At the scene - Tara McElvey, BBC News, Washington
When I saw Bernie Sanders at the White House in January, he looked confident and said President Barack Obama supported his effort. Things are different now.
Mr Sanders came outside into the bright sunshine, looking grim and sunburned. About 80 reporters and photographers were waiting for him. Standing in front of a metal podium that looked like a music stand, Mr Sanders held a couple of sheets of paper - notes he'd prepared for the media - and said that earlier this week he'd congratulated Hillary Clinton on running a "very strong campaign".
He spoke about his supporters and how he's continuing the fight until the last primary. "We should not be having many of our young people leaving college greatly in debt," he said.
As he spoke, he held his thumb and forefinger together as if he were calibrating his words. He finished speaking after a moment and left the podium. He took no questions - he simply walked away.
---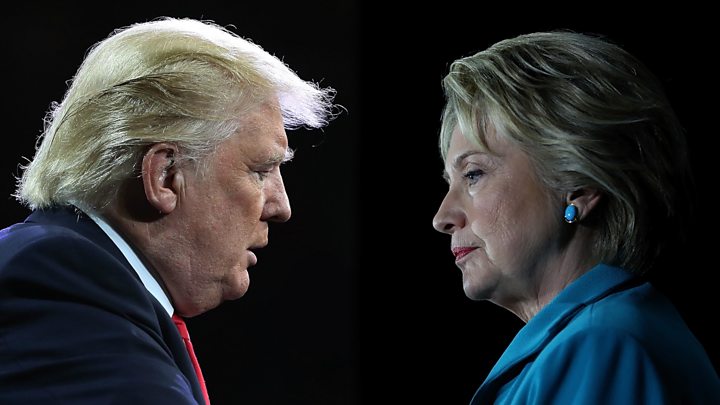 Mr Trump has pitched to Mr Sanders' supporters: "Bernie Sanders must really dislike Crooked Hillary after the way she played him. Many of his supporters, because of trade, will come to me."
But Mr Sanders said his campaign would not support Mr Trump, "a candidate whose major theme is bigotry".
During his interview, Mr Obama said he was "worried" for the Republicans, saying the US needed a "healthy two-party system".
"The main role I`m gonna be playing in this process is to remind the American people that this is a serious job," he said.
"You know, this is not reality TV. I've seen the decisions that have to be made. And the work that has to be done," he added, in a clear barb aimed at Mr Trump, a former star of TV series The Apprentice.