US election: How do you 'look presidential'?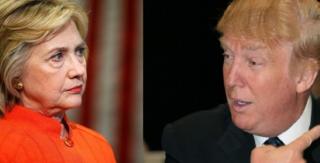 As the US election approaches, the gloves have come off, with Republican candidate Donald Trump saying Democrat Hillary Clinton does not have a "presidential look".
In an interview with ABC News on Monday 6 September, he said: "Well, I just don't think she has a presidential look. And you need a presidential look. You have to get the job done."
And on Wednesday Reince Priebus, chairman of the Republican National Committee, added that in his opinion Mrs Clinton is unfit to be Commander in Chief because she doesn't smile.
This sparked the hashtag #PresidentialFace by feminist Ella Dawson who was angry that a woman should be told to smile. She urged people to share their #PresidentialFace pictures with each other and Reince Priebus.
Kim Kurzatkowski joined in, also objecting to women being told to smile.
And there were many other stern posts:
Comedian Akilah Hughes adds that smiling isn't what being president is about.
Robyn Kanner, who has worked at the White House, was particularly unimpressed:
Social Justice Mage posted her picture and Ella Dawson joked that her lipstick was on point.
Another hashtag to emerge from this is #stoptellingwomentosmile: