US debate: Trump criticises Holt's 'unfair' questions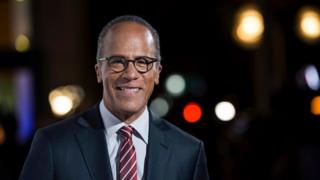 Monday night's US presidential debate between Hillary Clinton and Donald Trump is one of the most-talked about events of the year - and moderator Lester Holt found himself at the centre of it.
Donald Trump has started the following day with criticism of the veteran journalist - so how did things unfold?
What's in a handshake?
When the debate ended, and Donald Trump seemed to pause awkwardly before shaking Holt's hand - and social media exploded in speculation.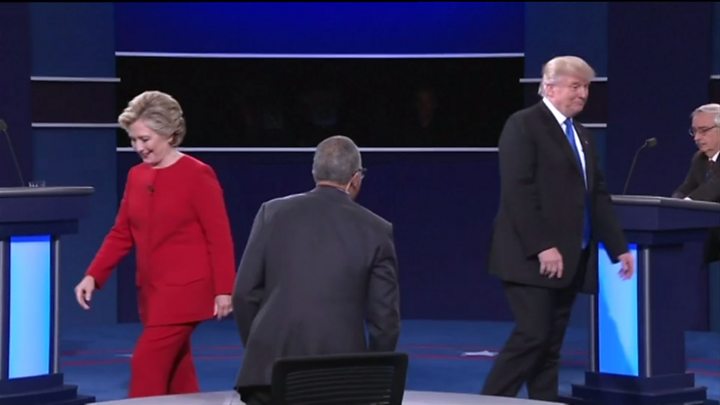 Mr Trump added to suggestions he was unhappy with the moderator when he tweeted after the debate, apparently criticising the choice of questions.
"Nothing on emails. Nothing on the corrupt Clinton Foundation. And nothing on Benghazi," he said, citing three major criticisms his campaign levels against Mrs Clinton.
Later, however, he told reporters Holt did "a great job" - but then in the following morning he spoke to Fox News by telephone and called Holt's questioning "unfair".
"I thought he was fine. I mean, nothing outstanding. He gave me very unfair questions at the end - the last three, four questions - but I'm not complaining about that," Trump said.
He also claimed his microphone on the night was faulty.
Fact-checking furore
Holt had found himself facing problems before the debate even began.
Earlier this month, a fellow NBC journalist, Matt Lauer, failed to challenge Mr Trump's false statement that he opposed the war in Iraq.
That event led to a huge backlash, and a debate on how much fact-checking a moderator should do.
All eyes were on Holt to see how he would handle the candidate's answers.
What got people tweeting?
5 million
tweets about the debate
62% of them were about Trump

444,000 were about NBC presenter Lester Holt (pictured)

10,500 were about #UnlikelyDebateGuests
Getty Images
Holt did, in fact, correct Donald Trump on his support for Iraq - telling him "the record shows otherwise" - but most media commentators felt he stayed out of the way for much of the debate.
"The biggest critique of Holt one could make ― and some did on social media ― was that he was too hands-off," opined the Huffington Post.
"Holt was almost invisible," wrote Fortune Magazine.
But not everyone saw it that way. The New York Post thought "he didn't know the meaning of impartial".
And former New York mayor Rudy Giuliani, a Republican, took issue with a policy which Holt pressured Trump on - one called stop-and-frisk.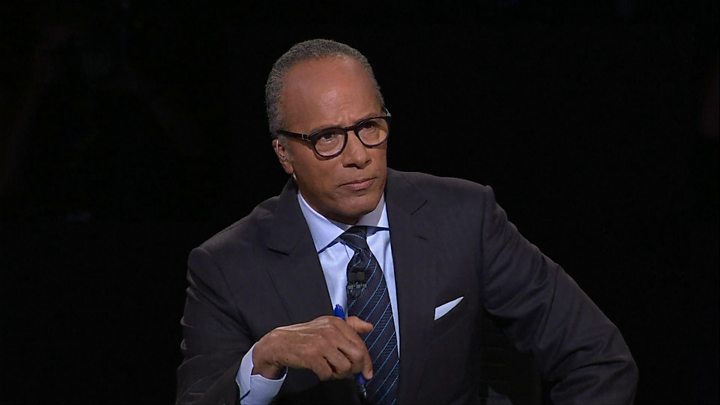 "I think it's outrageous that Lester Holt interfered in a legal discussion he knows nothing about on the side of Hillary Clinton, and I didn't see him once interfere on the side of Donald Trump," Giuliani said.
"He should be ashamed of himself," he added, and suggested Trump "think long and hard" about the moderator before agreeing to future debates.
Republican bias?
Much criticism of Holt's performance has come from Trump supporters and the Republican party - despite Holt's vast experience.
His CV includes major network shows such as Dateline NBC, Today, and his current role as anchor of NBC Nightly News, which attracts millions of viewers every night.
That makes him a national celebrity, and well used to high-stakes TV.
Before the debate, though, Mr Trump accused Holt of bias, labelling him a Democrat and complaining about the "unfair system".
But journalists checked voter records, and it turns out Holt is actually a registered Republican.
Who's next?
After Monday night's debate, the role of the moderator is still very much in the public eye.
Martha Raddatz at ABC News and Anderson Cooper from CNN will jointly moderate the next debate on 9 October, and can expect to have their records scrutinised by both campaigns.
Raddatz, ABC's Global News Correspondent, and has almost 20 years of experience reporting on foreign policy, the Pentagon, and the White House.
Cooper, meanwhile, is a major news anchor at CNN, having fronted a number of mainstream news shows - including one bearing his own name - with over 20 years' experience.