Clinton emails: Who is top Hillary aide Huma Abedin?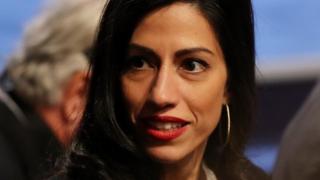 Huma Abedin has been described by the Democratic candidate as her "second daughter", but is she now a liability for the campaign?
Used to pulling the strings behind the scene, the 41-year-old was thrust under the spotlight when allegations about her former husband's "sexting" broke and now finds herself under harsher scrutiny.
The FBI says emails discovered on her estranged husband's laptop could be "pertinent" to its previous inquiry into Mrs Clinton's use of a private server when she was secretary of state.
Mrs Clinton's Republican rival Donald Trump has repeatedly called for Mrs Clinton to be jailed over the issue, though the earlier inquiry cleared her of wrongdoing.
Campaign chairman John Podesta - whose own emails have been hacked and then released through Wikileaks - has said the Clintons are standing by Ms Abedin.
But the emails, whose content is not known, could pose the toughest test yet of Mrs Clinton's loyalty to her aide of more than 20 years.
Clinton's 'body woman'
Born in Michigan to academic parents from India and Pakistan, Ms Abedin grew up in Saudi Arabia, went to international school in the UK and interned with Mrs Clinton at the White House aged 19.
She has said that she never really left.
After about a decade working as Mrs Clinton's "body woman", a term used to refer to someone who keeps a politician's show on the road, Ms Abedin's quiet efficiency and her glamour began to exert a fascination on the Washington establishment.
She was the "engine at the centre of Clinton's well-run machine, crucial and yet largely out of sight", said Vogue.
"Confessor, confidante, and constant companion" according to Vanity Fair.
"Like a mother" who "never let Clinton drift out of her line of sight, ever vigilant and poised to act," according to Politico last year and "Clinton's external hard drive" in its updated profile.
And her intelligence, fluent Arabic and knowledge of the Middle East gained her the respect of people such as high-profile Republican John McCain, the New York Observer reported.
Mrs Clinton herself has been effusive about her protege and would not want to see her go.
"With Huma, her grace, her intellect, and her humility have been unmatched as I've watched her go from an aide to an adviser to one of the people at the top of my campaign," she told Vogue.
It has been reported that Ms Abedin was one of two other people to be given email addresses on Mrs Clinton's email server set up at her home in Chappaqua, New York, which she used for all work and personal correspondence. The other was then State Department Chief of Staff Cheryl Mills.
Mrs Clinton did not use, or even activate, a state.gov email account, which would have been hosted on servers owned and managed by the US government, and critics say this enabled her to decide what information she made available.
How Weiner fits in
Ms Abedin's grace has however been matched by the indignity of her marriage breakdown, played out in public.
In 2011 her husband, former congressman Anthony Weiner, was found to have sent a sexually explicit photo to a 21-year-old student. In 2013, as he ran for New York mayor, more photos emerged.
Earlier this year Mr Weiner was reported to have "sexted" another woman, sending a photo of him with their toddler sleeping beside him.
It need not have affected Ms Abedin's career. But Mr Weiner, who has described himself as a "perpetually horny middle-aged man", is still causing trouble.
An FBI investigation into allegations he exchanged sexually explicit messages and photos with a 15-year-old girl led to his laptop being seized and the discovery of Ms Abedin's emails among a total of about 650,000 messages.
It is unclear what impact the resurrection of the investigation into Mrs Clinton could have on the election result.
But some advisers have already told the Democratic candidate to distance herself from Ms Abedin, the New York Times reported.
If the polls narrow ahead of election day, Mrs Clinton may find herself facing a difficult choice.