US election 2020: Fact-checking Trump and Biden on Covid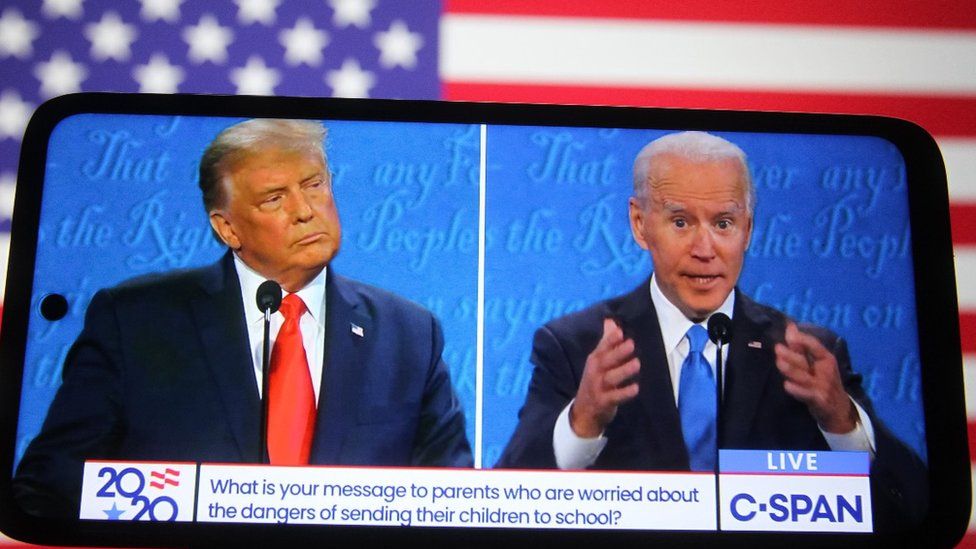 President Donald Trump's response to the coronavirus pandemic, in which more than 200,000 people in the US have died, has become a key issue in the forthcoming presidential election.
Mr Trump has himself tested positive for Covid-19, and the issue is likely to be brought into even sharper focus during the very final stages of the campaign.
Trump: "We have one of the lowest mortality rates"
Verdict: That's not right. The US ranks high globally in terms of covid deaths per person.
However, when you look at deaths per capita - as a proportion of each country's population - it is no longer top of the list, although it does remain in the top 10 worst-hit countries.
Biden: "President Trump ordered his administration to slow down coronavirus testing"
Verdict: Insufficient evidence.
At a rally in June, President Trump told the crowd: "I said to my people, slow the testing down, please."
But he has since called his comments "semi-tongue in cheek".
Dr Anthony Fauci, the White House's top infectious-diseases expert, said: "To my knowledge, none of us have ever been told to slow down on testing."
Trump: "We've rounded the corner [on coronavirus] - it's going away"
Verdict: No - cases and hospital admissions are rising and deaths remain high.
The White House's top infectious disease expert, Dr Anthony Fauci, has disputed the president's assertion that the US is turning a corner, calling the latest statistics "disturbing".
Around 69,000 new coronavirus cases a day are being reported across the US, up from around 50,000 a day at the start of October, according to the Covid Tracking Project.
There has been a 6% increase in cases in the past week, and daily deaths are averaging just under 800.
Biden: "The coronavirus spikes are in red states"
Verdict: That's not right. Coronavirus cases are rising in both Republican (red) and Democratic (blue) states.
Covid-19 cases are rising in more than 40 US states and these include both Republican and Democratic controlled states.
South Dakota is run by Republican governors, but Montana has Democratic governors - although both these states voted for President Trump in 2016.
Trump: "Did you see the World Health Organization yesterday? They said Trump was right. They said you can't make the cure worse than the problem itself. I've been saying that for a long time."
Verdict: The WHO did not say "Trump was right" and has not singled out the United States for praise in its handling of the pandemic.
President Trump appears to be referring to comments made by Dr David Nabarro, special envoy to the World Health Organisation, about lockdown measures.
Mr Trump said in August that the imposition of lockdowns "would ultimately inflict more harm than it would prevent".
Dr Nabarro said lockdowns should be the last resort for controlling the spread of the virus. "We in the World Health Organization do not advocate lockdowns as the primary means of control of this virus," he said.
However, he added that lockdowns are justified for buying time to "reorganize, regroup, rebalance your resources, protect your health workers who are exhausted".
Dr Nabarro did not refer to Mr Trump or to his handling of the pandemic in the US.
Biden: "The president said it [coronavirus] was a hoax."
Verdict: This needs context.
Joe Biden criticised President Trump's handling of the pandemic, accusing him of calling it "a hoax" and said the administration "minimised the seriousness of it".
President Trump did not directly call the virus a "hoax".
He accused Democrats in February of "politicising the coronavirus" and mentioned the impeachment process against him, calling that a "hoax".
He went on to say that criticism by Democrats of his handling of Covid-19 was "their new hoax."
Trump: "We suspended all travel from China."
Verdict: That's not right. Some people were exempt - it's estimated that thousands still flew to the US.
Mr Trump issued an order on 31 January which stopped foreign nationals who had been in China in the previous two weeks from entering the US, which came into effect on 2 February.
But the order had exemptions for US citizens, legal residents, and non-citizen relatives with close ties. Flight data analysed by the New York Times shows 40,000 people arrived in the US directly from China in the two months after President Trump's restrictions.
Biden: "As of about a month ago… 1 in 1,000 African Americans in all of America have died."
Verdict: We don't have complete data for race-related mortality, but independent research does support his claim.
Mr Biden appears to be quoting a statistic from the APM Research Lab, which tracks the impact of Covid-19 on minorities using official data and modelling.
They found that 1 in 1,020 Black Americans had died from the virus, considerably higher than other groups.
Trump: "Fauci said not to wear masks."
Verdict: This needs context.
At the start of the outbreak, Dr Anthony Fauci, the White House top infectious disease expert, recommended the US public didn't wear face coverings.
But he says his early comments have been taken out of context, claiming he was initially cautious because there was a shortage of PPE for healthcare professionals.
In early March, Dr Fauci said: "It could lead to a shortage of masks for the people who really need it." By the end of March, Fauci said recommending face coverings outside a healthcare setting was under "serious consideration".
Since April, Dr Fauci as well as the CDC have recommended the use of face coverings in certain settings to help slow the spread of coronavirus.
Biden: "We have 4% of the world's population, [but] 20% of the deaths".
Verdict: This is roughly correct.
The US population is around 328 million, which is just over 4% of the 7.7 billion global population.
There have been over 225,000 coronavirus deaths recorded in the US, according to the latest John Hopkins University data. The total number of deaths recorded worldwide is around 1,161,000.
On this metric, the US accounts for over 19% of Covid-19 deaths worldwide, although the way countries record their figures varies considerably.