Global media relieved at 'civil' debate in US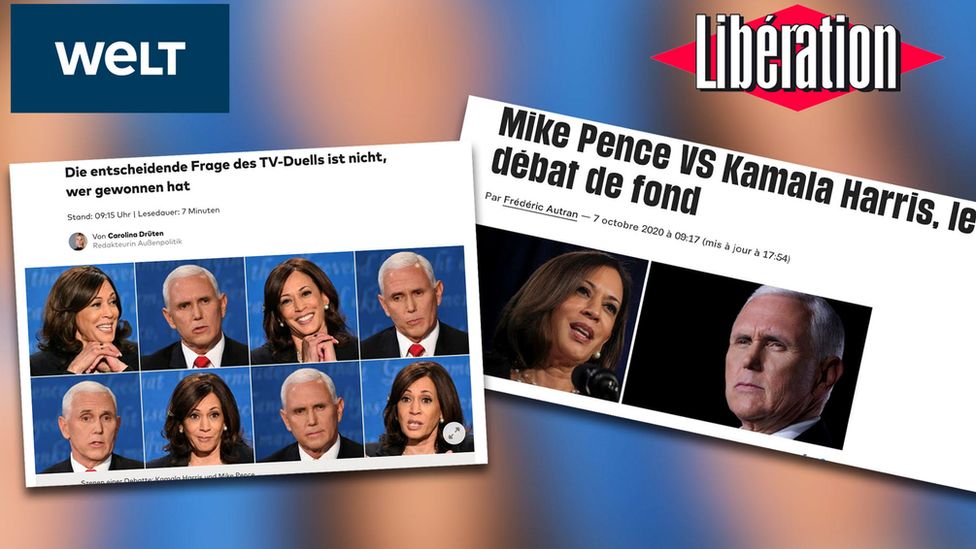 For many commentators in the global media, last night's debate by the US vice-presidential candidates Mike Pence and Kamala Harris was less about who won than the stark differences it revealed.
The candidates' gender, heritage, ideology and outlook on the global pandemic were all symbolically separated by the plexiglass erected as a coronavirus measure. 
Russian NTV said such measures in an enclosed space had been ridiculed by most medics.
"Everything separates them, starting from a plexiglass barrier... An evangelical conservative from the Midwest and a mixed-race Californian woman," France's left-wing Libération newspaper said.
"Two different visions of America were pitted against each other at the debate, but for one night at least the confrontation had to do with politics and not personal blows," said Italy's La Repubblica.
'Hunger' for civil debate
This time around, the debate was "sharp in the matter, polite in tone", said Germany's Die Welt, noting its difference with the first presidential candidates debate held in September. And "there is hunger" for for presidential behaviour, noted Danish Public Service radio.
"Many Americans were... in shock after the first debate between Donald Trump and Joe Biden, which was more reminiscent of a scene of domestic fighting than of a presidential debate," the radio said.
Sweden's Svenska Dagbladet said the "elephant in the room" during the debate was that "one day, one of these two may become the president" and that they "outshone their bosses". 
Denmark's daily Berlingske, and several other outlets also complained that neither Mr Pence nor Ms Harris actually answered some of the key questions asked, however.
Many outlets focused on how Democratic candidate Ms Harris performed.
A correspondent for Iran's Press TV thought she was "less spirited than expected" but highlighted her criticism of President Donald Trump for withdrawing from the 2015 Iran nuclear deal, and her remark that the US has become more isolated under Trump. 
In Russia, the main TV channels mostly focused on her. State-run Rossiya 24 said she "started her attack straightaway, saying the most ridiculous thing" on the coronavirus pandemic.
Rossiya 24 criticised her statement that she would not take the vaccine if Donald Trump told her to do so, calling it a promise "to follow the principle of 'cutting off her nose to spite her face'".Some also sneered at her mention of allegations that Russia secretly offered Afghan militants bounties to kill US troops. "The conspiracy theory has been upgraded now," Rossiya 24 said.
Other commentators, however, celebrated Ms Harris's assertiveness, highlighting her response to Republican rival Pence's interruption with: "Mr Vice President, I am speaking."
Several major Latin American media outlets noted this."'I am speaking,' that is how Kamala Harris stopped Pence during the debate" said a headline in Mexico's leading daily El Universal.
The phrase also featured prominently in a list of  viral memes in Brazil's leading news website Globo. 
In Colombia, Claudia Lopez, the first woman to be elected mayor of the capital, Bogota, tweeted to her 2.4 million followers: " I am speaking, Vice President... @Kamala Harris Long live women! Kamala President... soon!" In India, "Kamala" was one of the top trending topics on Twitter along with #VicePresidentialDebate2020, and #VPDebate, with most media outlets there lauding her appearance at the event in recognition of her Indian heritage.
A stray fly in the room which landed on Mike Pence's head during the debate also featured in some commentary.
On Russia's Rossiya 24 TV, pundit Vasily Koltashov called its appearance "an act of politeness".
"Both participants in the debate were polite and restrained, and the fly thanked them for not taking extreme positions. Both vice-presidential candidates in the debate were boring in my view. And it was a boring debate."