Amy Coney Barrett: What's at stake in Supreme Court fight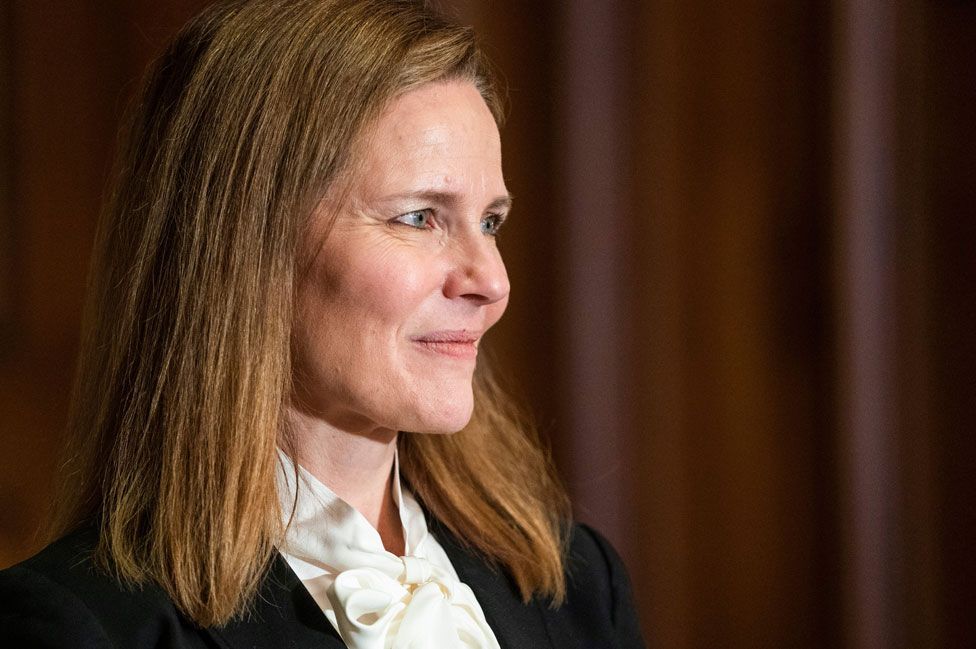 The battle to get Donald Trump's nominee to the US Supreme Court, Amy Coney Barrett, confirmed by the Senate is beginning. The shifting ideological balance of the court will have an impact in all areas of American life and across the US - perhaps in no place more than Texas.
Susan Lippman, a Democratic activist in Austin, Texas, was sitting in her car when she heard the news that Supreme Court Justice Ruth Bader Ginsburg had died.
"I'm not too emotional," she says. "But I let fly. I was raging and screaming. Pounding the steering wheel."
Lippman instantly knew the impact that the loss of Ginsburg, a liberal legal icon, would have on the ideological composition of the court. If Donald Trump could successfully replace her with his choice for a justice, it would secure the conservative tilt of the top US judicial body for a generation.
So, a week after Ginsburg's death, Lippman and her friend, Debbie White, were heading to protest outside the office of Senator John Cornyn, a Texas Republican senator who has pledged to confirm Ms Coney Barrett.
White says a 6-3 conservative majority in the court could directly attack Democratic Party priorities like government-managed healthcare and access to abortion services.
"I'm afraid that it's going to do away with some very important things like the Affordable Care Act, which would be just awful because that would bother so many lives," White says. "All the women's rights and women's health issues are a goner on a conservative Supreme Court."
Who is Amy Coney Barrett?
favoured by social conservatives due to record on issues like abortion and gay marriage
a devout Catholic but says her faith does not influence her legal opinion
is an originalist, which means interpreting US Constitution as authors intended, not moving with the times
lives in Indiana, has seven children including two adopted from Haiti
While the political battle over Trump's appointment of Barrett is taking place between the White House and Democratic senators in the US Capitol, some of the biggest legal fights that have made it to the Supreme Court in recent years have come out of Texas.
For instance, the current challenge to the Affordable Care Act - Barack Obama's signature law when in office, aiming to expand access to healthcare - was brought by the state of Texas. It will come before the Supreme Court just days after the election, possibly with Barrett on the bench.
A major 2016 court decision on regulating abortion clinics also originated in the state, as did recent disputes over federal voting rights laws, the consideration of race in university admissions, the constitutionality of Obama-era immigration reforms.
Texas was also a key player in several challenges to capital punishment, anti-sodomy laws and, going back to 1973, the landmark Roe v Wade decision that legalised abortion across the US.
Part of this, explains University of Texas law professor HW Perry, is a result of Texas being a large state, both in population and size, with interests touching on most aspects of American life. More recently, however, Texas's prominence in high-profile court battles is the result of a concerted effort by the state's top Republican politicians to become a major player in the conservative legal world.
"Texas has become quite a leader in pushing cases to the Supreme Court to get accepted for review, and then often they are the ones who wind up arguing it," Perry says. "It's developed this highly professionalised office which is also the one leading many of the other conservative states in getting cases before the Supreme Court."
Battle over Supreme Court
From 2013 to 2020, the state's then-solicitor general, Scott Keller, argued 11 cases before the Supreme Court. The next closest state lawyer had four. Texas Governor Greg Abbott, when he served as the state's attorney general, would frequently say of his job: "I go to the office, I sue the federal government, and then I go home."
The state, which made a habit of pushing the boundaries of conservative law and causes, didn't always win those high-profile cases. On anti-sodomy law, voting rights, the death penalty and, most recently, abortion, it was often on the short end of the judicial stick, many times by narrow, 5-to-4 decisions.
With Ginsburg gone and Barrett poised to take a seat on the court, however, conservatives in Texas are optimistic that the legal tide may be turning.
"It's a historic opportunity," says Matt Mackowiak, an Austin-based political consultant and chair of the Travis County Republican Party. "Conservatives in Texas and across the country are really, really satisfied with the past two Supreme Court nominations the president made and are encouraged and, I think, really hopeful about the next one, as well."
Anti-abortion groups like Texas Right to Life celebrated Barrett's announcement, noting that she would replace Ginsburg, who was a consistent vote for abortion rights. Replacing her, they said "could yield new hope for the protection of preborn children".
Another abortion-related case, challenging a Texas law that bans a common second-term "dilation and extraction" abortion procedure and requires burial or cremation for embryonic or foetal tissue, is currently in being considered by a federal appellate court.
The Right to Life group expressed optimism that Barrett will join Trump's other appointments, Brett Kavanaugh and Neil Gorsuch, in upholding the Texas law and setting the stage for more stringent regulation of abortions in other states.
"Texas is a pro-life state, and certainly among conservatives we'd like to see Roe vs Wade overturned," says Mackowiak. "Of course, that doesn't make abortion illegal, it makes it a state issue again."
As much as conservatives in Texas are relishing the ways the Republican leadership in their state can benefit from a rightward move in the Supreme Court's ideology, those on the left who have fought them in the courts are hunkering down for what they see as long, frustrating and frequently futile battles.
"It's horribly depressing," says Susan Hays, an Austin-based lawyer who has spent decades litigating abortion rights cases. "Texas has been the source of a disproportionate number of reproductive rights cases, voting rights case, other sorts of civil rights cases that the Supreme Court has had to decide in order to protect basic human rights in the state."
The conservative refrain to these kind of complaints is that elections have consequences. Donald Trump won in 2016, and Republicans took control of the US Senate, which confirms judicial nominees, in 2015. Texas itself hasn't elected a Democrat to statewide office since 1994.
There are signs of life for Texas liberals, however. Polls show Joe Biden and Trump in a close fight for the state's presidential electoral votes. Cornyn is in a closer-than-expected re-election race, and the Democrats may even be the favourites at this point to take back the state legislature, which it last controlled in 2002.
According to law professor Perry, if Texas does go blue, the Democrats could inherit a legal apparatus they can use for their own causes.
"Hope may spring eternal that because of the changing demographics and other things, Texas is moving towards purple and there will be a future where the institution that is built for Texas for the conservative point of view may someday become one that is a powerful place for liberals to be," he says. "I don't think it's quite there yet, however."
In the meantime, Hays says, liberals in the state will have to do their best to keep the conservative legal tide at bay.
"We're not getting sleep, speaking personally," she says. "But Texans are fighters."
Hays says when she first heard of Ginsburg's death, she said a swear word, then walked outside into a clear night to look at the stars - and take a more philosophical attitude. She thought of how one of her legal heroines was now reunited with her husband, who died in 2010.
"I thought about Marty Ginsburg and how much he loved her and supported her," she says. "And instead of feeling sad, I felt kind of happy that they're together again. And instead of feeling sad, I felt a lot of strength and determination."