US election 2020: The people who almost always predict the president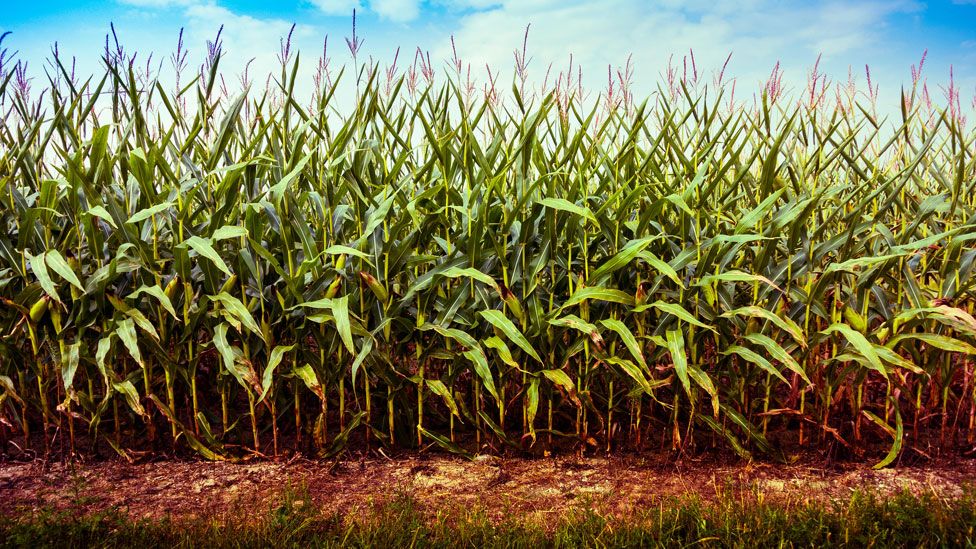 Residents of Vigo County in Indiana have something of a gift. Except for two notable exceptions in 1908 and 1952, every candidate they have voted for since 1888 has gone on to win the presidency.
As a result, the feeling among Vigo County voters today may offer the world a window into the outcome of the US presidential election on 3 November.
For Susan and Terry Hayhurst, owning a 1,700-acre farm has not stopped them from travelling the globe. They have been to Europe for work and holidays, and their 25-year old daughter Hayley is studying fashion in London.
And when it comes to politics, for them Donald Trump is the only ticket in town.
Terry farms corn and soybeans in the southwest of the county, and keeps two dozen Hereford cattle. The state of Indiana is a leading exporter of soybeans, about half of which is exported to China.
The Trump administration's trade war with China prompted Beijing to respond with a 33% tax of its own on a variety of US soybeans in 2018. But Mr Hayhurst, a graduate of Purdue University, believes American agriculture emerged stronger - the dispute softened and the tax was withdrawn.
He thinks the president has done an extremely good job. "We have for too long in the United States acquiesced to these other countries. But I think we are far better off right now with our relationship with China.
"[Mr Trump] comes across very abrupt and very crass and I think we all wish that there was a little more polish. But at the same time, maybe that's what we need right now."
Mrs Hayhurst feels that the rest of America sometimes forgets the essential role so-called "flyover country" - parts of the US many Americans only see high above from the seat of their plane - plays.
"We are not country bumpkins; we are not people walking around in overalls," she says. "Agriculture is big business."
Situated on the banks of the Wabash River, Vigo County has a fairly even split of rural and urban residents. The more conservative population is balanced by several colleges and universities dotted around the county, including Indiana State University, that tend to be more liberal.
Vigo county has other uncommon voting dynamics. While Mr Trump easily won the 2016 Republican primary here, there was no clear winner on the Democratic side where the vote was split between candidates Hillary Clinton and Bernie Sanders.
What's more, the line that divides Republican from Democrat here is often blurred - it's not uncommon for local politicians to switch parties, without much backlash. That's because voters have tended to choose individuals over party. But results from local elections in 2016 and 2018 suggest that people are changing allegiances less frequently now.
A 15-minute drive north of the Hayhursts' farm is Terre Haute, home to about 60,000 people. It's also the location of a major federal prison, housing convicted airplane hijackers, MS-13 gang members and white supremacists such as Dylann Roof, who gunned down nine people praying at a South Carolina church in 2015.
As elsewhere in the US, Terre Haute's cafes and restaurants have turned to open-air dining in a bid to bolster their businesses in a disastrous, pandemic-stricken year.
It's here, from a wooden bench on a block of Wabash Avenue that Pat Goodwin, a Democrat who is running for one of the county's top jobs - commissioner - tries to explain the county's dynamics.
He says the town isn't at the "leading edge of change" and its near-even split of urban and rural residents broadly reflect the country's political mood. "Maybe that's part of why we're a bellwether."
Issues such as a proposed new jail and a bribery scandal in a local school district are likely to be big issues in local elections next month. But in the presidential poll, Mr Goodwin, who worked as an engineer for the city for eight years, believes there's been a shift away from Mr Trump.
"Nobody predicted the change that we've seen in the last seven/eight months [due to] the president's absolute botching of the response to the pandemic," he says. "A lot of people maybe don't want to hear that; we have a lot of supporters of President Trump. But the numbers don't lie. He's done a terrible job."
Goodman says there's a growing enthusiasm for Democratic Party candidate Joe Biden that wasn't there when Hillary Clinton ran in 2016. After Barack Obama prevailed here in both 2008 and 2012, four years ago Donald Trump roundly beat Mrs Clinton by 15 percentage points or 6,002 votes.
"It's going to be extremely close," says Mr Goodwin. "It's going to be razor thin."
The result may come down to voters such as 23-year-old Kyla Brown, who graduated with a degree in biology from the nearby Rose-Hulman Institute of Technology last May. Despite the contrasting styles and messages coming from the Trump and Biden camps, she is yet to decide who she'll vote for next month.
"It's a very difficult decision because both of our choices are not ideal," she says. "It's kind of amazing that we are where we are, and we have the candidates that we have." She's concerned about Mr Biden's age, while Mr Trump's comments are a turn-off. "He's very rude and very degrading for a lot of people," she says.
Like many communities across the Midwest, Vigo County's recent socio-economic past has been coloured by industrial decline. Columbia Records had a record pressing factory and distribution centre here until 1982 that employed 6,200 people at its height. As the grip of the Great Recession smothered businesses across the country in 2009, BMG Colombia House's successor company shuttered in Terre Haute with the loss of the last 147 jobs.
The Trump administration has been criticised in some quarters for calling off stimulus talks with Democrats last week that could have helped cash-strapped small business owners reeling from virus-induced restrictions.
He has campaigned as the law and order candidate while calling Black Lives Matters protesters "a symbol of hate" and claiming - falsely - that Joe Biden would defund law enforcement.
In recent months the town has found itself facing a surge in burglaries. One victim is the Delish Café on Terre Haute's northside - a new cash register that cost more than $1,000 (£766) was stolen in a burglary in September.
But when it comes to choosing politicians, authenticity rather than law and order is the priority for owner Senka Delich. "Trump is not a politician; he is not polished. He's real," she says. "He will say stuff you will say, or I will say if I get mad."
Mrs Delich says she came to America 27 years ago from the former Yugoslavia after her husband was killed in the Bosnian war. When she first arrived, she had to take clothes from the rubbish to clothe herself and her daughters.
Most importantly, she says: "Trump loves his country."
Love of country and the president's perceived business acumen are qualities Mrs Delich shares.
"I came here with nothing; I didn't speak any English. Now I have two restaurants and a coffee shop. I work 16/17 hours a day; I love it," she says. "If you wanna work, you can have [the American dream]."
Other stories from around America