US Election 2020: Anthony Fauci says Trump campaign ad quote misleading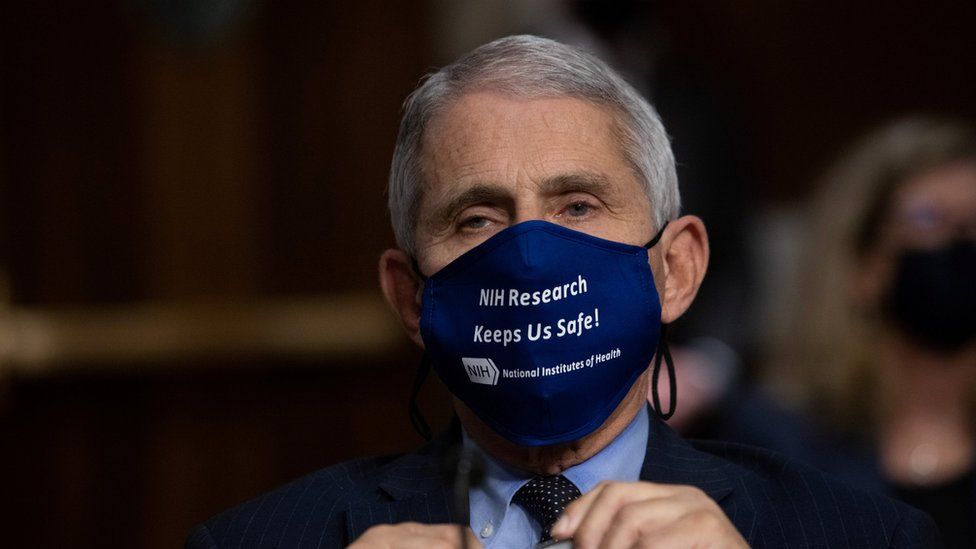 Top US government scientist Anthony Fauci has said a clip of him used in a Trump campaign advert is misleading.
His words that he "can't imagine that anybody could be doing more" to fight Covid-19 appear in the ad to refer to President Donald Trump specifically.
But Dr Fauci, who clashed with Mr Trump before on Covid, was actually talking about himself and other staff.
The infectious diseases expert said he had never publicly endorsed any political candidate.
The dispute comes as President Trump returns to the campaign trail on Monday, just two days after his doctors gave him the all-clear to resume public events following his own treatment for coronavirus.
He faces Democrat Joe Biden in the election on 3 November.
What's the Fauci row about?
The 30-second campaign advert declares that "President Trump is recovering from the coronavirus, and so is America", before playing the clip of Dr Fauci.
The Fauci footage comes from an interview the epidemiologist did with Fox News in March.
Dr Fauci's full words in that interview are: "I have been devoting almost full time on this. I'm down at the White House virtually every day with the task force. It's every single day. So, I can't imagine that under any circumstances that anybody could be doing more."
Dr Fauci said in a statement on Sunday: "The comments attributed to me without my permission in the GOP [Republican Party] campaign ad were taken out of context from a broad statement I made months ago about the efforts of federal public health officials."
He says: "In my nearly five decades of public service, I have never publicly endorsed any political candidate."
The Trump campaign defended the advert.
Spokesman Tim Murtaugh said: "These are Dr Fauci's own words. The video is from a nationally broadcast television interview in which Dr Fauci was praising the work of the Trump administration. The words spoken are accurate, and directly from Dr Fauci's mouth."
How have Fauci and Trump clashed before?
The doctor has been a key member of the White House task force on coronavirus but he has found himself having to clarify or question some of the president's assertions on the epidemic.
In April, Mr Trump retweeted a #FireFauci hashtag but then insisted the doctor was doing a great job.
The doctor has said the early US response to Covid should have taken speedier and more comprehensive action, and clashed on issues such as school re-openings, each time drawing Mr Trump's opposition.
Dr Fauci also criticised the White House for hosting a gathering last month that has been linked to an outbreak of Covid-19.
He said the Rose Garden event on 26 September, held to unveil President Trump's Supreme Court nominee, was a "superspreader event". At least 11 people who attended later tested positive for the virus.
As many as 34 White House aides and other contacts have tested positive for Covid-19 recently, according to US media, many of them linked to the 26 September event.
Mr Trump has generally expressed scepticism about measures such as masks and lockdowns to combat the spread of Covid-19, which has killed more than 213,000 people in the US.
The president, who tested positive on 1 October and was hospitalised for three days with the virus, said on Sunday he was "totally negative", although neither he nor his White House doctors have confirmed an actual negative test.
Mr Trump said he was now immune. Although he said in an interview that the length of his claimed immunity "may be a long time and may be a short time", his tweet on Covid saying "that means I can't get it (immune) and can't give it" drew a warning post from Twitter that the message could be "spreading misleading and potentially harmful information".
Doctors are still unclear what immunity is afforded after a person has contracted Covid-19.
Mr Trump begins a full-on campaign burst on Monday with a big rally in Sanford, Florida, before moving on to Pennsylvania and Iowa.
These are key swing states.
Polling suggests Mr Biden has a single-digit lead over Mr Trump and an ABC News/Ipsos poll found that just 35% of Americans approved of how Mr Trump has handled the crisis.
However, the races in battleground states are often much closer and will have a big say in who wins.
Another factor this year is postal voting. It will be much higher this year due to Covid-19 and Mr Trump has regularly cited the possibility of election fraud, although the Election Commission says there is no basis for fearing that.
What has the Biden campaign been doing?
It has been focusing a lot on Covid.
In a tweet on Sunday, Mr Biden said: "In January, I said President Trump was the worst possible leader to deal with a public health crisis. And everything we've been through in the months since has proven that to be true."
Mr Biden's team has also been posting regular coronavirus test results for him, in an attempt to highlight the lack of information on Mr Trump from the White House.
Mr Biden heads to Ohio on Monday, with events in Toledo and Cincinnati. Mr Trump won the state by eight points in 2016, but opinion polls suggest it is a tight contest this time.
The Democratic campaign is also outspending the Republican by about two to one on election advertising.