US election 2020: Will celebrity endorsements help Joe Biden?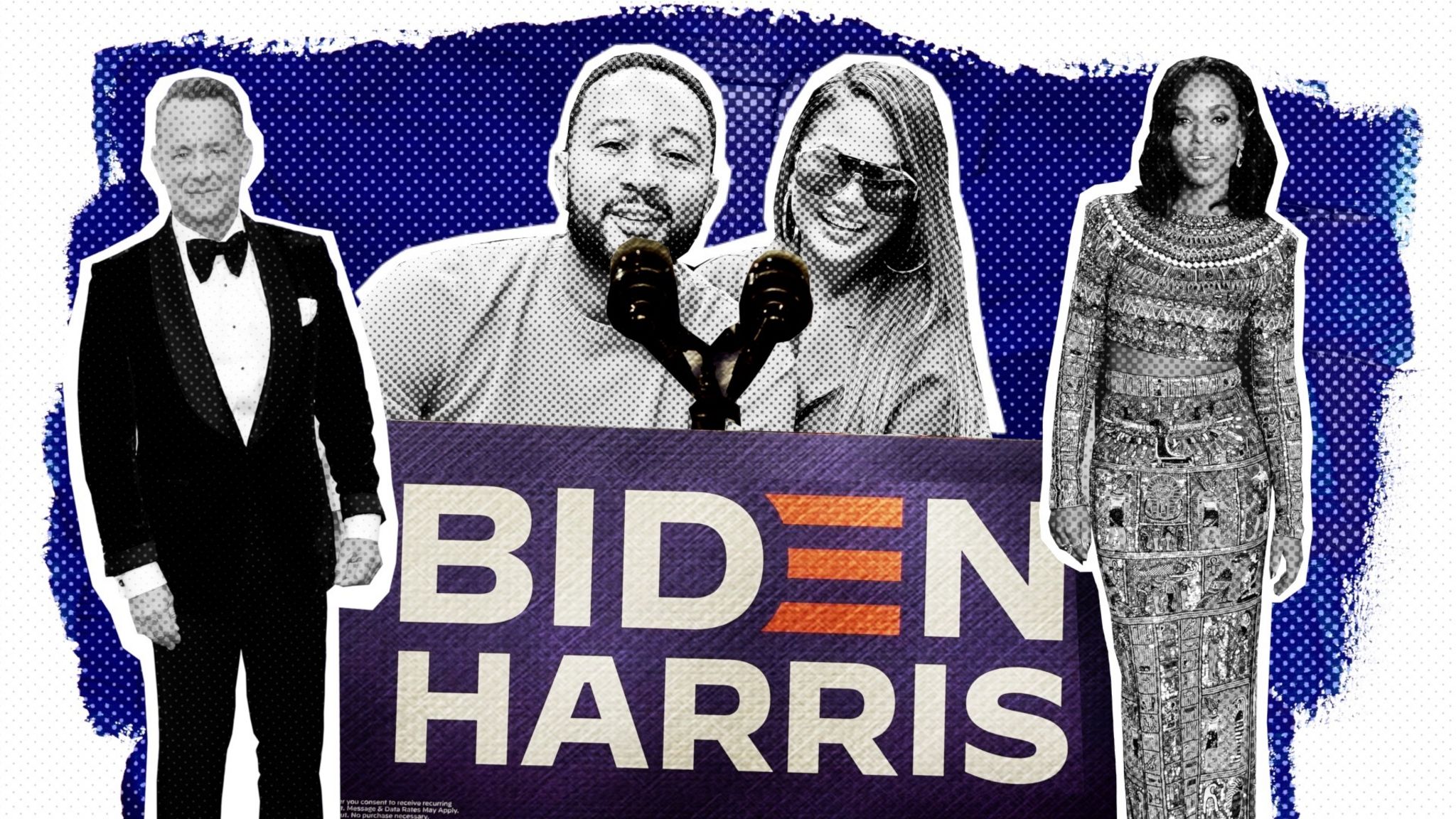 With just three weeks until the US presidential election, Democratic candidate Joe Biden seems to have cornered at least one constituency - celebrities.
In recent days, many of the country's most famous voters have lined up to support Mr Biden and his running mate Kamala Harris. Taylor Swift, Madonna, Cardi B, Tom Hanks and George Clooney have all thrown their support behind the Democratic ticket.
In an editorial for V magazine, Taylor Swift urged fans to vote for Mr Biden and Ms Harris, and promptly shared the endorsement with her 140 million Instagram followers.
And Dwayne Johnson - a self-described independent and now the most-followed American man on Instagram - made his first ever endorsement, saying in a video that Joe Biden and Kamala Harris are "the best choice to lead our country".
This summer's Democratic National Convention, too, featured a parade of Oscar winners, musicians and professional athletes - an apparent contrast to the Republican convention the following week. There, the president himself was the biggest celebrity in attendance.
"Trump certainly has his celebrities, quote-unquote," said Cooper Lawrence, journalist and author of Celebritocracy: the Misguided Agenda of Celebrity Politics in a Postmodern Democracy. Kid Rock, James Woods and Scott Baio are a few.
"But in terms of who real celebrities are, that people know really well and like, Joe Biden is definitely winning in that way."
Celebrities playing a role in American politics isn't new, Ms Lawrence said. And this year's Democratic tilt isn't either.
"Hollywood leans liberal," she said. "That's the history of celebrities and politics."
Celebrity Republicans tend to run for office, she said, pointing to President Ronald Reagan, former California Governor Arnold Schwarzenegger and President Trump. Celebrity Democrats, instead, tend to stump for candidates.
Studies of the 2008 Democratic presidential primary credit Oprah Winfrey's early and enthusiastic endorsement of then-candidate Barack Obama with roughly 1 million additional votes for Mr Obama. The "Oprah Effect", researchers said, was responsible for the difference in popular vote between Mr Obama and his Democratic opponent, Mrs Clinton.
"The joke is that she [Oprah] picked the president," Ms Lawrence said.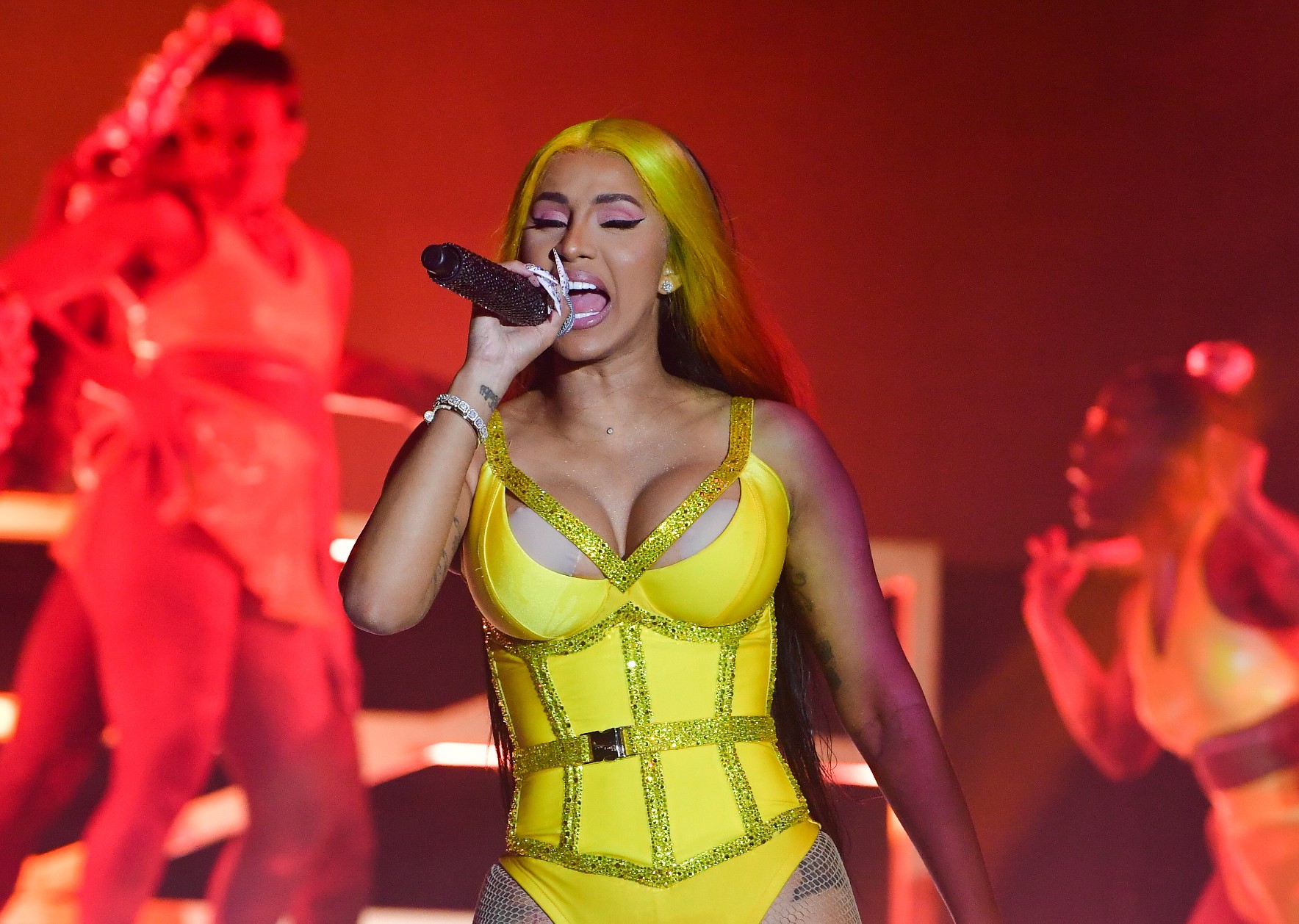 Getty
I spoke to Joe Biden. I think he's getting it. I think he understands people's pain. And I'm ready to see a change.
But this sort of celebrity bump has, so far, not been recorded in a general election. What they can do, Ms Lawrence said, is motivate followers to get out to vote - an effect we've already seen this year.
Last week, pop star Ariana Grande urged her 280 million followers on Twitter and Instagram to register to vote in her home state of Florida before the deadline later that day. "Fellow Floridians, we need you. Today is the last day to register to vote," she wrote. "If you haven't yet or if you know of a friend or family member that hasn't, it's imperative that you make sure they register today because Florida has the potential of swaying the election."
Hours later, the state's online registration site crashed, after a sudden surge in traffic. Florida secretary of state Laurel Lee reported an "unprecedented 1.1 million requests per hour" and extended the registration deadline by a day.
But while celebrities may convince their fans to get to the ballot box, research shows that they have not yet convinced them who to vote for when they get there, Ms Lawrence said.
Take the last presidential election, for example. Then-Democratic candidate Hillary Clinton - just like Mr Biden now - easily outpaced Mr Trump in terms of Hollywood popularity. Her fundraisers featured Justin Timberlake, George Clooney and Jennifer Aniston, and she claimed endorsements from Lady Gaga, Kim Kardashian and Scarlett Johansson.
But while she claimed a multi-million ballot lead in the popular vote, Mrs Clinton's edge with celebrities did not land her the presidency.
There is even some suggestion that these star-studded events hurt her chances.
In the final days of her 2016 campaign, she appeared with a laundry list of A-listers - Katy Perry, Beyonce and Jennifer Lopez - at concerts across the country, seemingly aimed at young and diverse voters. But Mrs Clinton was still unable to hold on to the African American voters who had turned up for President Obama. In 2016, approximately 11% of the black voters who voted Democrat in 2008 stayed home.
What's more, opting for a concert series, as opposed to time on the ground with voters, may have played into perceptions of Mrs Clinton as an out-of-touch elite.
Likewise, in the 2018 midterms. Taylor Swift broke her career-long political silence and endorsed two Democrats in Tennessee, including Phil Bredesen for Senate. In an Instagram post the popstar addressed Mr Bredesen's rival, Marsha Blackburn, writing that the Republican's voting record in Congress "appalls and terrifies me".
Skip twitter post by Ariana Grande
Allow Twitter content?
This article contains content provided by Twitter. We ask for your permission before anything is loaded, as they may be using cookies and other technologies. You may want to read Twitter's cookie policy, external and privacy policy, external before accepting. To view this content choose 'accept and continue'.
The BBC is not responsible for the content of external sites.
End of twitter post by Ariana Grande
"She voted against equal pay for women. She voted against the Reauthorisation of the Violence Against Women Act… These are not MY Tennessee values," she said.
In the 48 hours after Swift weighed on the race, more than 169,000 new people had registered to vote on Vote.org - a nonpartisan group that seeks to increase voter turnout - more than half under the age of 30. But in the tightly contested Senate race, Ms Blackburn won, and is now a sitting US senator.
Beyoncé, too, made headlines in the midterms, making an eleventh hour pledge for Democrat Beto O'Rourke's Senate campaign. But despite speculation of a so-called Bey Bump, Republican incumbent Ted Cruz held on to his seat.
Still, there are a few reasons to think that celebrity endorsements may have a bigger influence this time around.
First, is the way that celebrities are talking to us, Ms Lawrence said. Today, their communication is direct: photos and videos posted to social media instead of publicist-issued statements. And much of this content feels personal.
"There's something called the illusion of intimacy, and that's really at play here," she said. Celebrities, more than ever before, tell us about their kids or their lives or their break-ups, making us feel as though we know them, and can trust them.
"You know, I know Kim Kardashian more than I know about my next door neighbour," Ms Lawrence said. So if Kim Kardashian says "vote for Biden", a fan could be swayed, especially if they're unfamiliar with politics.
Second, is who they're speaking to. Young people - those most likely to follow popstars on social media - have historically low voter turnout compared to other age groups.
But when they do vote, they tend to vote Democrat. Between Millennials and Generation Z - those who will be between 24 and 39 years old on election day - just three in ten say they approve of President Trump's job in office, according to a recent study by Pew Research Center.
And political support across this age group is also the most likely up for grabs.
"About 40 years of research finds that the age of 30 is when your political opinions really crystalise," Ms Lawrence said. "So how did they get there? They have to be shaped by something."
And if you are a devoted fan, a celebrity endorsement might be it.
What questions do you have about the US election?
In just three weeks, Americans head to the polls to cast their vote for Donald Trump or Joe Biden. What questions do you have for American voters? Submit your questions here and we'll put them to our voter panel.
In some cases, your question will be published, displaying your name, age and location as you provide it, unless you state otherwise. Your contact details will never be published. Please ensure you have read our terms & conditions and privacy policy.