US Election 2020: Why Arizona matters so much to Trump and Biden
By Sophie Long
BBC News, Arizona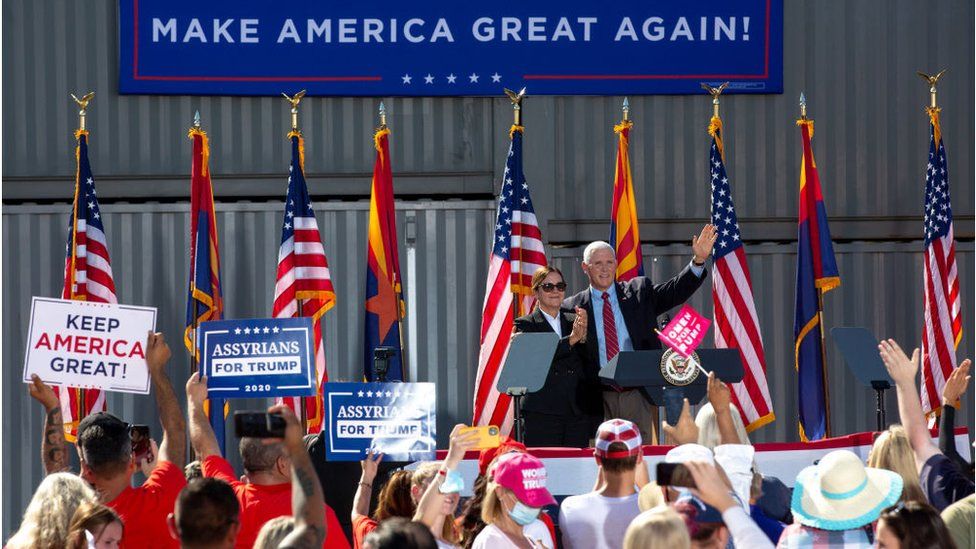 In the searing midday heat in Peoria, Arizona, people wearing bright red MAGA (Make America Great Again) hats hold their smartphones high, filming as the multiple vehicles of the vice-presidential motorcade sweep down empty streets, carrying Mike Pence to a rally.
To chants of "four more years", Donald Trump's right-hand man fist-pumps the air on stage. Outside the venue, I ask those still queuing to get in whether they think the coronavirus pandemic will have an impact on the way people vote.
This isn't the easiest task. Many here are not fond of the media, nor of wearing face masks.
"Absolutely it will," says Gary, a 74-year-old Trump supporter. "One hundred percent it will, because the media have spread fear and told people it's Trump's fault."
"I'm afraid so" says Sherry, a young mother and Israeli immigrant. "They've told people to stay home for months and that it's Trump's fault. Basically blaming him for a pandemic that started in China."
Another woman, also called Sherry, says it will have an impact, but in a good way. She says Trump now has personal experience with the virus, that it has made him "more human" and people will be "more sympathetic towards him".
Joy tells me it will make no difference. "I loved him before he had the coronavirus and I love him now".
Arizona used to be a ruby red state that any Republican candidate could rely on. But in recent years things have changed here. Dramatically.
Over the past 30 years or so the population has doubled. Now there are more younger people and more Latinos. Due to an influx of people from more liberal leaning states, the population has become more diverse, and more Democratic.
Now there is everything to play for. No coincidence, then, that in the same state on the same day Joe Biden and Kamala Harris are also busy campaigning.
But this is a very different scene. The Democrats hoping to push Trump and Pence out of the White House in November visit small businesses in Phoenix, listening quietly as they are shown medical gowns.
Everyone is wearing masks and standing at a safe social distance.
Outside Biden's supporters are less quiet. They wave banners and dance to music, whooping and cheering.
Kareem, a young decorator, says the coronavirus and particularly Donald Trump's contraction of it will make more people vote, and vote Democrat. "There is no way this can't hurt him" he says. "This is a slap in his own face.
"He made it look like it was nothing the whole time and now he has it. It's made him look like he was treating our country like it was a game, it was a joke, and now he has it. It hurts his campaign."
An older couple, Betsy and Rick, have just cast their votes at a polling station nearby. Rick says the pandemic has shown that the president can't manage a public health crisis that has affected the whole country and the whole world. He says the fact that half the White House has now been infected shows he's mismanaged the whole thing.
Betsy loudly whispers though her floral mask: "I think the fact he's on steroids has altered his mental faculties." The same happened to a friend of hers, she says. She rolls her eyes and in the same loud whisper tells me she's embarrassed and hopes people don't think all Americans are like him.
I make my way to the Annual Arizona Bike Week. It's the first major outdoor music event to take place in the state since the coronavirus took hold. The organisers say I can't go inside, so I hang out in the parking lot and talk to people as they arrive.
Joe Biden is currently leading in the national polls, and here in Arizona. But there is deep scepticism, not just of the polls, but of how coronavirus cases are counted, and even how the votes will be come November.
David says he feels they'll use fear to sway the election. "They're going to make people so afraid of the virus they're going to keep people away from the polls. And I think the mail-in voting is going to be manipulated. It will have an impact on both sides."
Sherry (it's a popular name in Arizona) pulls in on a sparkling silver Harley Davidson. She's a respiratory therapist and has been working on the frontline treating coronavirus patients.
She tells me that she doesn't care for the president personally because he's "a smart-ass New Yorker". She says she hopes he wins in November, but he has a hard road ahead. Because, she says, older people like her don't get heard.
"They're going to get out there and speak up," she says. "Because they're tired of this nonsense. The world has gone batshit crazy."
He has support here at the biker rally, but President Trump will have to work hard to hold Arizona.
Both he and Joe Biden know whoever wins here could ride the electoral college all the way to the White House.