US election 2020: What legal challenges remain for Trump?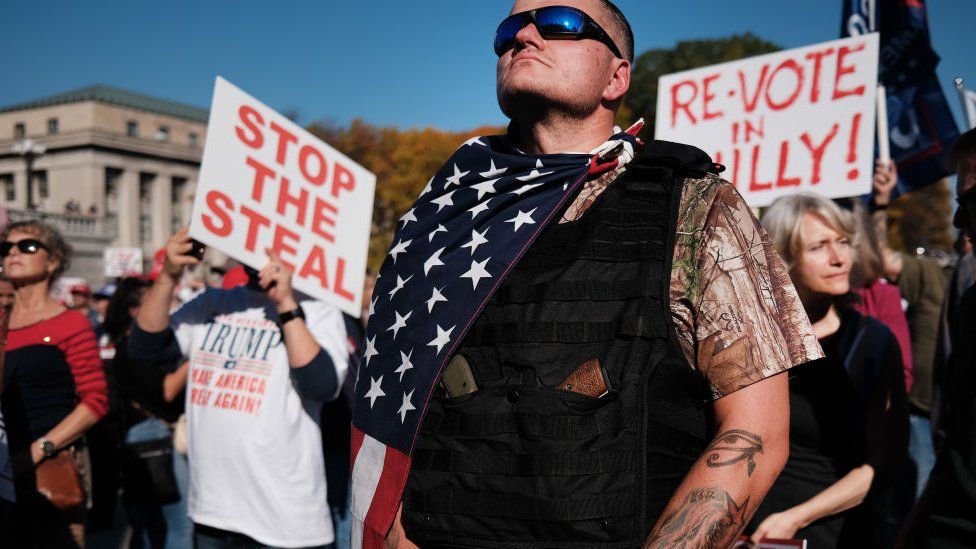 President Trump is continuing to pursue legal challenges to the US election results, despite state electors having formally nominated Joe Biden as the next president.
There's nothing to stop Mr Trump's legal team from filing further lawsuits, but experts say the chances of success are increasingly slim.
So what legal cases remain?
Trump not giving up in Pennsylvania
This is where Mr Trump has launched most of his legal challenges - and where he has suffered a series of losses in the courts.
Although Mr Biden has been certified the winner in the state with a margin of over 80,000 votes, the president has maintained his attempts to overturn the result.
The campaign wants the US Supreme Court to take up a number of issues that courts in Pennsylvania have already rejected.
One of these issues is the claim that voters in Democrat-leaning areas were given more of an opportunity to correct mistakes on their postal ballots than elsewhere.
When they initially lost the case, his lawyers took it to a federal appeals court. It was rejected there too, with the judge saying: "Charges of unfairness are serious. But calling an election unfair does not make it so. Charges require specific allegations and then proof. We have neither here."
It seems unlikely the US Supreme Court will hear any further appeal and legal experts say even if it did the case would have little chance of success.
The president's legal team also allege hundreds of thousands of postal ballots were counted without proper oversight from poll watchers.
This followed a legal tussle over where these observers were allowed to position themselves during the count - with the Trump team arguing that poll watchers were prevented from seeing what was going on.
The Pennsylvania Supreme Court eventually ruled that election officials had not violated state law.
The courts in Pennsylvania also rejected a string of legal challenges by the Trump campaign based on around 9,000 postal ballots they said lacked information, such as the date the ballot was cast or the voter's address.
The Trump legal team did have one a small victory over how long voters should be given to provide proof of identification if it was missing or unclear on their postal ballots. The deadline was 12 November, but following a court ruling this was reduced by three days.
Most challenges dropped or settled in other states
A series of lawsuits in Michigan, Wisconsin, Nevada, Georgia and Arizona have all so far failed to have an impact.
These are states where Mr Biden has been certified as the winner.
In Michigan, the Trump campaign filed a federal lawsuit to block the certification of results in Wayne County, citing complaints from poll watchers - but this was dropped after a similar challenge was rejected at state-level
In Arizona, a lawsuit claimed some legal votes were rejected, citing problems with voting machines - but Arizona's Secretary of State said this was "grasping at straws", and the suit was dropped
In Georgia, an attempt was made to stop the count in Chatham County, alleging problems with ballot processing - but the lawsuit was rejected by a judge who said there was "no evidence" of improper ballot mixing
In Nevada, a suit asked that Mr Trump be named the winner in the state or that the results be void with no winner certified, alleging illegal voting. This was rejected by the state's Supreme Court, stating there was "no credible or reliable evidence" of fraud
In Wisconsin, Trump's legal team have argued around 220,000 ballots were unlawfully cast, as they seek to overturn the result there. The suit has been rejected by the state's Supreme Court
Wisconsin underwent a partial recount in Dane and Milwaukee counties, and Georgia had a state-wide recount - both confirmed Mr Biden as the winner.
There was also a suit filed by the state of Texas, backed by President Trump, which claimed the results in Georgia, Michigan, Pennsylvania and Wisconsin were unlawful because of changes to voting procedures due to the coronavirus pandemic.
Could challenges reach the Supreme Court?
President Trump has repeatedly said his legal challenges should be heard by the US Supreme Court, but he's acknowledged this could be hard.
With little success in the lower courts, it's unclear if the US Supreme Court would be willing to hear any of the president's legal challenges.
"There's no standard process for bringing election disputes to the Supreme Court" says Prof Richard Briffault of Columbia University Law School. "It's very unusual and it would have to involve a very significant issue."
To date, the 2000 election is the only one to be decided by the US Supreme Court.
In that year, Democrat Al Gore lost Florida state - and the presidential election - by 537 votes out of a total of almost six million cast in the state.