US Election 2020: Battle for US Senate to be decided in January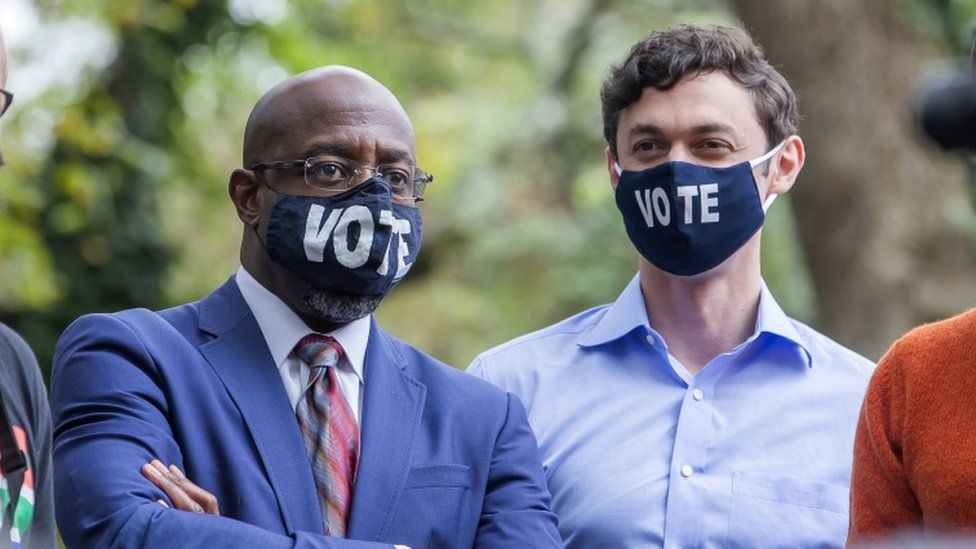 The balance of power in the US Senate will be decided in January, when Georgia will hold run-off elections for both its seats.
No candidate in either race has polled 50%, as required by state election law.
The run-off elections will take place on 5 January, two days after the new Senate is due to convene.
The Republicans currently have a 53 to 47 majority in the Senate. So far, the Democrats have managed a net gain of one seat.
The Democrats had high hopes of gaining the four seats they needed to take control, but many Republican incumbents held their seats.
If however the Democrats can gain both seats in Georgia, a traditionally Republican state, this would lead to a 50-50 tie in the Senate.
The result will effectively put them in control of the chamber if Joe Biden wins the White House, given the vice-president's power to cast tie-breaking votes.
In one of Georgia's Senate races, incumbent Republican David Perdue had 49.8% of the vote and Democrat Jon Ossoff had 47.9%, according to the BBC's results system.
"If overtime is required when all of the votes have been counted, we're ready, and we will win," Mr Perdue campaign manager Ben Fry said on Thursday.
But the Ossoff campaign predicted that "when a run-off is called and held in January, Georgians are going to send Jon to the Senate".
In Georgia's other Senate race, Democrat Raphael Warnock won 32.9% and will go into a run-off against Republican Senator Kelly Loeffler, who trailed him with 26%.
Ms Loeffler was appointed to the Senate last year to fill a seat left vacant when her predecessor retired.
Of the 35 Senate seats being contested, 23 were Republican-held and 12 were Democrat.
The Democrats had hoped to gain several seats, but one of only two wins came in Colorado, where former Governor John Hickenlooper defeated Republican incumbent Cory Gardner.
They also won a seat in Arizona, where former astronaut Mark Kelly defeated Republican incumbent and former fighter pilot Martha McSally. But this gain was cancelled out when Alabama Senator Doug Jones lost to Republican candidate Tommy Tuberville.
In Maine, the moderate Republican incumbent Susan Collins staved off a fierce challenge from Democrat Sara Gideon.
Democrats have not had control of the Senate for six years.