US election 2020: How a misleading post went from the fringes to Trump's Twitter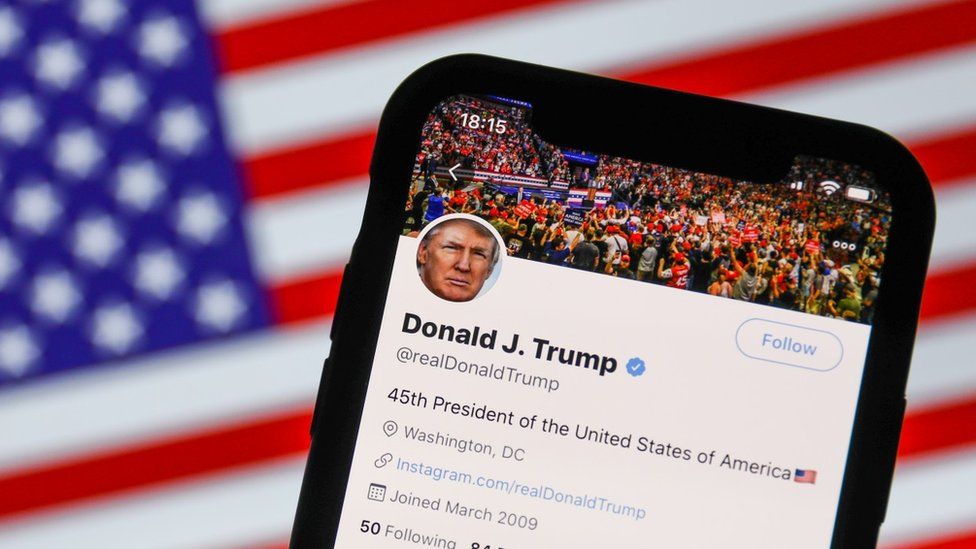 How did a misleading post travel from the fringes of the internet to the president's Twitter account?
In the early hours of Wednesday, a post erroneously alleging voter fraud was posted on an extreme message board.
In a matter of hours, it went viral and reached President Trump's Twitter feed.
A map of voting in battleground state Michigan wrongly showed an increase of over 138,000 votes for Joe Biden, and at the same time no additional votes for President Trump.
The screenshot was real - but it contained incorrect information. Simply put, it was a data entry error.
Decision Desk, the election data company which posted the map, said: "It was a simple error from a file created by the state that we ingested… the state noticed the error and produced an updated count."
Even though the error was corrected, it provided fertile social media content in an environment where unfounded allegations of voter fraud were gaining traction.
The earliest trace we found of the map being used to allege some type of fraud was on the website 8kun at 10:37 GMT on Wednesday 4 November.
Less than half an hour later, at 10:56 GMT, the map found its way onto Twitter. It was posted by an profile with a Pepe The Frog image - a meme popular among far-right and alt-right accounts. Again, the post strongly hinted that some kind of fraud or trick was to blame rather than a data entry error.
Shortly thereafter, a series of anonymous accounts began promoting the image, gaining significant numbers of shares. And around the same time, the image was being shared on platforms such as Parler, along with online forums popular with far-right groups.
Shortly after 14:00 GMT, it was retweeted by conservative Matt Mackowiak, who shared it to his 36,000 followers (he later deleted the post and apologised). A number of right-wing influencers also promoted the screenshots.
"I don't know what 8kun is," Mr Mackowiak told the BBC, adding that he saw the map promoted by an account associated with The Federalist, a conservative news outlet.
"I thought it was an anomaly. Never seen an update go 100% for one candidate," Mr Mackowiak told us via Twitter. "Corrected immediately when I learned one county found the error."
It was already well on its way towards going viral. Another conservative writer, Matt Walsh, retweeted Mr Mackowiak's post to his more than 500,000 followers.
Then at 15:35 Wednesday, President Trump retweeted Mr Walsh, adding: "WHAT IS THIS ALL ABOUT?".
How far did the image spread?
Cindy Otis, vice-president of analysis at the Alethea Group, which investigates disinformation and social media manipulation, confirmed the path of the post and noted that it wasn't the first time material from the fringes of the internet have turned up on high profile accounts.
"This is yet another instance in which false content and conspiracies have been seeded on the fringe platform 8kun, made its way onto mainstream social media platforms, and eventually into the talking points of elected leaders in the US, including the president himself," Ms Otis says.
"The vast majority of false information we are seeing about the election, including false claims of fraud, is based on a lack of understanding of how the electoral process and things like vote counting work," she adds.
Despite many major media outlets and fact-checkers pointing out the error, pictures and screenshots of it have continued to spread online.
Twitter added labels and restricted sharing of some of the most viral tweets containing the image and allegations.
So far, it has garnered tens of thousands shares across Twitter and Facebook alone.
Images have also emerged on Instagram and Reddit and have even crossed into multiple languages, including German, Portuguese, Russian and Spanish.