US election 2020: Biden takes Georgia to solidify victory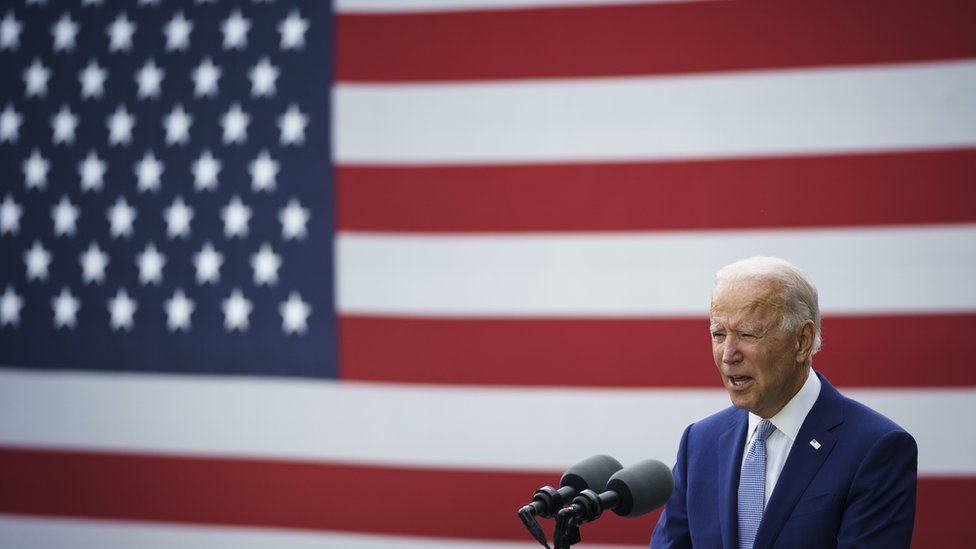 US President-elect Joe Biden has won the state of Georgia, the BBC projects, the first Democratic candidate to do so since 1992.
The win solidifies Mr Biden's victory, giving him a total of 306 votes in the electoral college, the system the US uses to choose its president.
President Donald Trump is projected to win North Carolina, reaching 232 votes.
Mr Trump, who has not yet conceded, alluded for the first time to a possible new administration in January.
Looking subdued, the president stopped short of acknowledging his defeat during a briefing of his coronavirus task force at the White House. These were his first public comments on the election since his defeat was projected by US media.
The president, who did not mention Mr Biden by name, did not take questions from reporters. Pressure is growing on Mr Trump, a Republican, to acknowledge Mr Biden's victory and help prepare the transition from one administration to another.
The results in Georgia and North Carolina were the last to be projected in the race for the White House. Mr Biden's electoral votes equal the tally Mr Trump achieved in his victory over Hillary Clinton in 2016. At the time Mr Trump referred to it as "a landslide".
President Trump has launched a flurry of legal challenges in key states and levelled unsubstantiated allegations of widespread electoral fraud. But his efforts suffered three setbacks on Friday:
In Arizona, his team dropped a lawsuit seeking a review of ballots cast on Election Day after it became clear his rival's lead was unassailable. The challenge was based on a claim that some legal votes had been rejected
In Michigan, a judge rejected a request by two Republican poll watchers - who had alleged fraud in Wayne County - to block the certification of election results in Detroit
In Philadelphia, Pennsylvania, the Trump campaign's requests to invalidate several batches of mail-in ballots were rejected
A manual recount is to be carried out in Georgia because of the narrow margin between the two candidates, but the Biden team said they did not expect it to change the results there.
Joe Biden did not have to win Georgia or Arizona to secure the White House. His recapturing of the "blue wall" northern industrial states of Wisconsin, Michigan and Pennsylvania by themselves assured his victory.
The former vice-president's success in these Sun Belt states - the first time a Democrat has won either in decades - suggests, however, that Democrats may be clearing a new path to presidential success in future elections.
If so, it would make Democrats less dependent on the kind of non-college-educated white voters in those northern battlegrounds that, given Donald Trump's appeal, may be trending toward the Republicans. It was educated suburban voters, as well as traditionally Democratic ethnic minorities, that delivered Georgia and Arizona to Mr Biden.
It is not all good news for the Democrats, however. Donald Trump did win North Carolina - another southern swing state - even though it was carried by Barack Obama in 2008.
The electoral map is shifting, and the parties will have to adjust their strategies accordingly. In the meantime, Georgia - which has two January run-off elections that will decide control of the US Senate - will take centre stage in the months ahead. Joe Biden's narrow victory there all but assures it will be a hotly contested battle.
Biden team urge access to briefings
The General Services Administration (GSA), the government agency tasked with beginning the transition process, has yet to recognise Mr Biden and his running mate Kamala Harris as winners.
Meanwhile, the Biden team have not been given access to classified security briefings, federal agencies and funding needed to ensure a smooth transition of power. Biden spokesperson Jen Psaki said this lack of access could affect Mr Biden's ability to govern.
"You need real-time information to deal with crises of the moment," she said, highlighting the impact of the pandemic. "It's imperative that our team and our experts have that access".
Earlier, a group of more than 150 former national security officials urged the GSA to officially recognise Mr Biden so that they could access "pressing national security issues". A small but growing number of Republicans are also backing calls for the president-elect to be given daily intelligence briefings.
The president continues to dispute the election result. A tweet on Saturday questioned the checks on mail-in ballots in Georgia, saying: "Expose the crime!"
It was the latest in a slew of tweets backing his claims of widespread election fraud, although he has provided no evidence.
He also suggested he might join his supporters at a rally planned in Washington on Saturday.
The statement from the Election Infrastructure Government Co-ordinating Council was released after Mr Trump tweeted that voting software used in 28 states had deleted millions of votes for him, but presented no evidence.
The claim appeared to originate from the obscure TV network One America News (OANN) and was flagged by Twitter as disputed.
On Friday, White House spokeswoman Kayleigh McEnany told Fox News: "President Trump believes he will be President Trump, have a second term."