US election results: Why the most accurate bellwether counties were wrong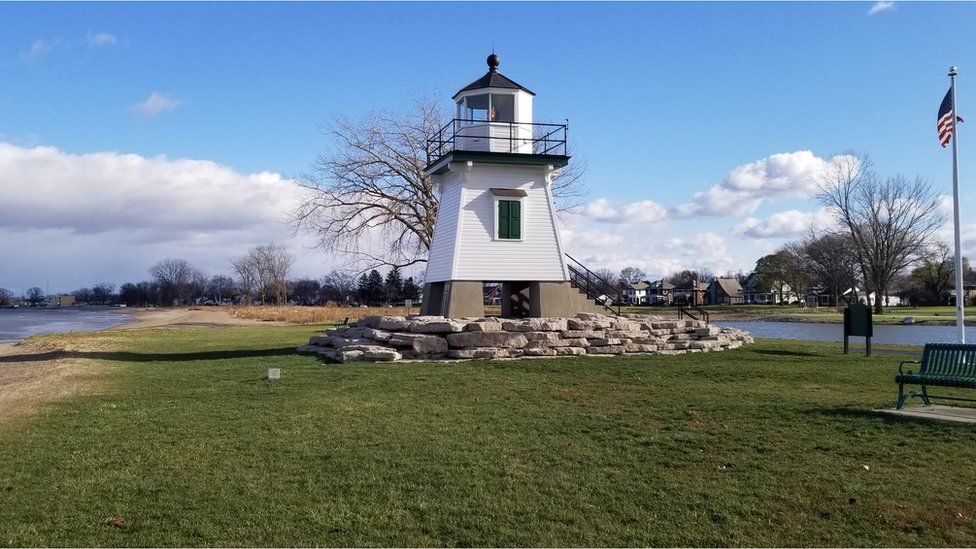 America's most accurate bellwether counties, regions that have a reputation for accurately picking the president, got the presidential election completely wrong. Here's why.
On a cold, wind-swept November afternoon two weeks after election day, the crowds that thronged the beaches of Ottawa County all summer long are but a distant memory.
Situated on the southern shore of Lake Erie in Ohio, Ottawa County is one of America's most accurate bellwether counties - a region where voters correctly pick the president, election after election for decades at a time.
It's a largely rural area of 40,000 residents that's home to a nuclear power plant, a sprawling US National Guard training facility and islands that the British Royal Navy battled for and lost during the War of 1812.
A majority of voters here had backed the eventual winner of presidential elections every time since 1964. Until this year.
With a total turnout of 78%, Donald Trump won Ottawa County by a margin of 61% to 38%, improving his 2016 return by four points.
"I think people were pretty happy with some of the things he's done, what he's been able to accomplish," says Mark Coppeler, a leading local Republican who was re-elected county commissioner last month. "Especially considering there's a lot of things that has been done that don't get reported at all."
Ottawa County wasn't the only swing county to get the outcome wrong this time around.
In fact, of the 19 pivot counties across America to correctly pick the president every time over the past 10 election cycles, only one - Clallam County in Washington state - saw a majority back Joe Biden for president.
What's more, in this year's election voters in leading bellwether counties didn't just come out for Donald Trump marginally; they backed him in droves.
In Valencia County, New Mexico, which had correctly predicted the winner of every presidential election since 1952, Mr Trump won by 10 points; in Indiana's Vigo County, which backed every president bar two since 1888, he prevailed by 15 points.
In Westmoreland County, Virginia - a small, rural community south of Washington DC that's failed to be a bellwether only twice since 1928, and is home to twice the number of African Americans than the national average - he beat Mr Biden by 16 points.
The 2020 election appears to illustrate that the partisanship that's defined politics in Washington for years has now spread to small-town America. "People are more likely to identify with a party than we've seen before," says Harrison Kreisberg of BlueLabs Analytics, a polling firm that works with progressive and Democratic interests.
It's something Joan Day-Baker, chair of Valencia County's Democratic Party, has witnessed first-hand.
Arriving at a voting station to observe as a poll challenger on 4 November last, she sat down next to two people she didn't know. "I asked if they were from the Republican Party, and they said they were," she says. "I said: 'I'm the chair of the Democratic Party,' and the gentleman looked at me and said: 'Oh, the enemy.'"
Valencia County is home to a string of towns along the banks of the Rio Grande river in an otherwise largely arid stretch of desert south of Albuquerque.
In the past, says Mrs Day-Baker, the presence of conservative Democrats and split-ticket voting - choosing a Republican nominee for president but Democratic Party candidates as local representatives, or vice versa - were both commonplace. But that's no longer the case.
Here, local Republican candidates fuelled by Mr Trump's firebrand style almost wiped Democrats off the local political map.
She says that previously, "when there was a presidential election, people are watching, paying attention, and as soon as the president is elected, they forget [about politics] until it's election time again".
"That didn't happen after 2016," she adds. "They followed through the whole four years. Nobody forgot about politics."
She blames much of that on the "Trump effect" - Mr Trump's ability to engage people in politics by appealing to their fears and discontents. In Valencia County, Mr Trump beat Mr Biden by six points more than he defeated Democratic Party candidate Hillary Clinton in 2016.
The divisions were everywhere. During the campaign Mrs Day-Baker says that local Democrats organised a "Ridin' for Biden" parade of vehicles through parts of the county. But when word got out, Trump supporters crashed it. "We had to quietly move our parade," she says. "Those are things that aren't just political, they become personal, after the election."
As with Valencia County, in the past bipartisanship wasn't unusual in Indiana's Vigo County. Profiled by BBC News weeks before the 2020 election, locals said voters' political identities weren't always defined in strict party terms and that people would regularly pivot between parties from one election cycle to the next.
This year with Mr Trump winning the county handily, not only did Vigo County Republicans keep their seats, a "red tide" similar to what transpired in Ottawa and Valencia counties saw Republican members take positions such as county judge, treasurer, clerk and recorder.
Some say it's not only the polarisation induced by the outgoing president that's to blame for traditional bellwether counties' failure to correctly predict the election.
Mr Biden "never thought he was going to bring Ohio; he didn't put the effort in," says Democrat John Brikmanis from Oak Harbor in Ottawa County, and who ran unsuccessfully for the position of county clerk last month. "It wasn't part of his strategy."
While local Republican Party candidates enjoyed a bump in local media coverage for opening a new headquarters last summer, Democrats were facing vastly different circumstances. For the first time "in years," says Mr Brikmanis, the Democratic National Party chose not to set up a local headquarters ahead of the November election. This was important for candidates since the presidential candidate's campaign would normally foot the bill.
Sitting at the same Kozy Corners diner table that president Barack Obama ate from when on his own re-election campaign in July 2012, Mr Brikmanis, a lawyer, believes local Democrats' failure to get votes is also linked to the broader economic decline being experienced by rural and rust belt communities across the Midwest.
"When I came here in 1989, you couldn't be elected dog catcher if you weren't a Democrat," he says. In the 1990s, he says, Democrats ran for many local county positions unopposed. "Democrats have really not done anything for the farmers… They've totally ignored the rural community. Republicans have paid some attention. Trump gave them hope. It almost became religious."
Experts say that while traditional bellwether counties are whiter and less educated than the national average, there's no one element that unites them as political oracles.
"These counties, they're not real representations of America," says Mr Kreisberg of BlueLabs Analytics. "We call them bellwethers because there's some fluke statistic, sometimes they are the right mix of different demographics. These are places that are demographically strong for Republicans in the abstract, but might have had something that kept them closer to 50-50."
Whether or not these less diverse, industry-dependent communities can regain their bellwether status in four years' time remains to be seen. As the country's demographics shift and the rural-urban divide becomes more pronounced, the chances appear slim.