US Capitol riots: Trump supporter arrested after Pelosi 'data theft'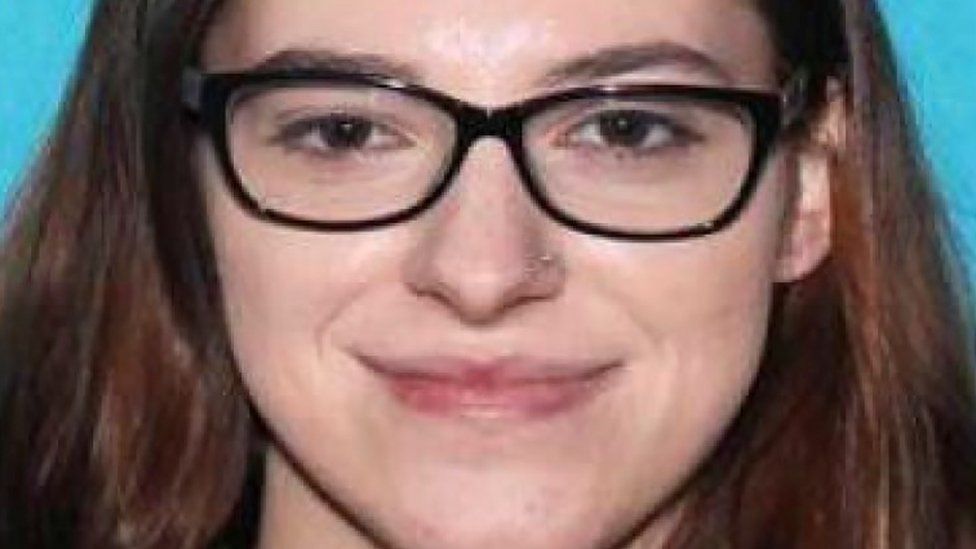 A Donald Trump supporter suspected of stealing a laptop or hard drive from Democrat Nancy Pelosi's office during the US Capitol riots has been arrested.
Riley June Williams, 22, was detained in Pennsylvania on charges of violently and illegally entering the building, and disorderly conduct.
A former romantic partner had said in an affidavit Ms Williams intended to sell the data to Russian intelligence.
Five people died after a pro-Trump mob stormed Congress on 6 January.
Ms Williams' case is among more than 200 that have been opened since the president's supporters forced their way into the Capitol building as lawmakers met to confirm Joe Biden's election win.
Ms Williams was arrested on Monday in the Middle District of Pennsylvania, police records show.
Ms Williams had surrendered herself to authorities, sources told CBS News.
The charge sheet lists "knowingly entering or remaining in any restricted building or grounds without lawful authority, violent entry and disorderly conduct on Capitol grounds".
It makes no mention of the data allegations. The FBI is reportedly still investigating these claims, which were carried in a sworn statement presented by an FBI agent to a court.
The FBI agent in the court filing says the agency was tipped off by a former romantic partner of Ms Williams who alleged she had intended to take a laptop or hard drive from the office of Ms Pelosi, the Democrat Speaker of the House of Representatives.
The witness "stated that Williams intended to send the computer device to a friend in Russia, who then planned to sell the device to SVR, Russia's foreign intelligence service", the affidavit said.
The transfer of the device "fell through for unknown reasons", the witness is alleged to have said, "and Williams still has the computer device or destroyed it".
Ms Pelosi's deputy chief of staff, Drew Hammill, tweeted two days after the attack that a laptop had been stolen from the speaker's office but it was only used to give presentations.
A second ITV News report some days later has an interview with Ms Williams' mother at their home in Harrisburg, Pennsylvania, in which she confirmed her daughter was the woman in the TV footage. She said her daughter had left home without saying where she was going.
Security is tight ahead of Joe Biden's inauguration on Wednesday amid fears of further attacks by far-right groups and others who believe President Trump's unfounded claims that the election was stolen from him.