BBC News Lincolnshire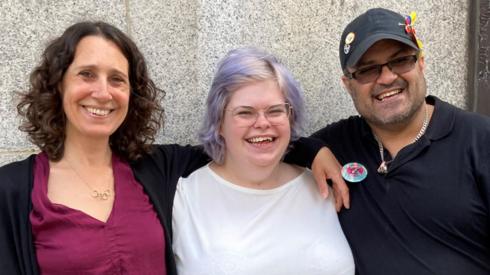 Top Stories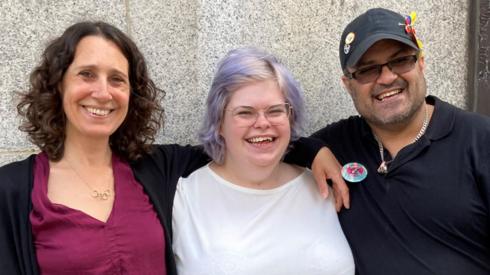 Featured Contents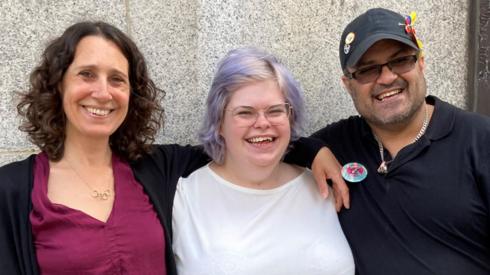 Latest Updates
The pilot project aims to reduce the frequency of flooding in part of Lincolnshire.

Extinction Rebellion: Third protester conviction quashed

An Extinction Rebellion protester from Lincolnshire has become the third to have their conviction quashed at the Old Bailey in as many days.

Image caption: Amelia Halls, centre, with XR's Zoe Blackler and Riz Choudhry,

Amelia Halls, 23, from Stamford, was told she should not have been given a criminal record for peacefully obstructing a road during a 2019 demonstration.

Her win comes amid mounting questions for the Crown Prosecution Service over cases brought against the protesters.

A judge at the Old Bailey pressed prosecutors to explain whether they stand by a string of XR convictions.

Since 2019, XR says that hundreds of its followers have been convicted of blocking roads.

Many of those convictions now appear to be in doubt after the Supreme Court recently ruled that peacefully and briefly obstructing a highway for a genuine political cause was lawful activity.

Darren Munnelly: Family pay tribute to 'irreplaceable' man

The family of a 46-year-old man who died after being attacked in Lincoln have described him as "irreplaceable".

Copyright: Family photo/Lincolnshire Police

Darren Munnelly (pictured), was found with a serious head injury at a property on Carr Street early in the early hours of 25 July, but died a short time later in hospital.

A man has appeared at Lincoln Crown Court charged with his murder.

Paying tribute to Mr Munnelly his family spoke about his charity work, which included cooking and delivering meals for people during the coronavirus pandemic lockdowns.

In a statement they said: "Darren was such a friendly, popular and sociable man who was so kind to others.

"He'd play snooker with his son Sean, and won several titles including the junior championship of Lincoln two years in a row - we're honoured the league is considering naming a trophy in his honour.

"He will always be missed. He was irreplaceable."

Thursday's Yorkshire and Lincolnshire weather forecast

After a dry, bright and sunny start, it will cloud over with heavy, showery rain, pushing in later in the afternoon.

This evening, the rain should gradually clear away with only a few showers lingering in places:

Man fined after hare coursing with dogs

A man caught hare coursing has been found guilty of hunting offences after releasing dogs onto brown hares in Goole.

Adam Brown, of Princes Street in Doncaster, pleaded guilty to an offence under the Hunting Act 2004 at Hull Magistrates' Court on Tuesday.

The court heard how, on Sunday 21 March, Brown and two juveniles entered farmland near Rawcliffe Bridge, Goole, and intentionally released dogs onto brown hares, allowing the dogs to pursue the animals.

Brown was ordered to pay a £120 fine, as well as court costs and a victim surcharge.

PC Rich Fussey said: "We are working hard to combat wildlife crime and this conviction further demonstrates our commitment to dealing with and prosecuting offenders that come to our area to commit hare coursing.

"I would like to thank local members of Farmwatch for their assistance and partnership during the incident which has resulted in another conviction for hare coursing in Humberside."

Met Office warns of storms for Yorkshire and Lincolnshire

Storms could bring flooding to parts of Yorkshire and Lincolnshire at the end of the week, forecasters have warned.

A yellow weather warning for thunderstorms has been issued by the Met Office from 10:00 on Friday 6 August to 09:00 on Saturday 7 August.

Forecasters say "slow moving thundery downpours may cause localised surface water impacts".

A yellow warning means you should plan ahead thinking about possible travel delays, or the disruption of your day to day activities.

The Met Office says it's monitoring the developing weather situation and warns people should "keep an eye on the latest forecast" and be aware the weather may "change or worsen, leading to disruption of your plans in the next few days."

Wednesday's Yorkshire and Lincolnshire weather forecast

A mostly dry and bright start to the day followed by an afternoon of sunshine with some scattered showers, falling heavy at times.

This evening will see further showers, easing overnight:

First boat in 90 years uses restored canal lock

A canal boat has passed through a Georgian canal lock for the first time in 90 years after a three-year restoration project.

The Three Shires trip boat passed through the formerly derelict Lock 14 at Stenwith, near Grantham, at 11:00 today.

The Canal & River Trust, Grantham Canal Society and the Waterway Recovery Group have been working together to rebuild the lock since 2018.

Volunteers removed and rebuilt the lock walls by hand, with new oak lock gates - made at Stanley Ferry, near Wakefield - fitted into the restored lock chamber - the first new gates the lock has had in almost 90 years.

The scheme was awarded £830,500 from the National Lottery Heritage Fund, to bring locks 14 and 15 back into use.

The project has already seen the full restoration of Lock 15 which was officially reopened in September 2019.

Phil Mulligan, regional director for the Canal & River Trust, said: "This has been a monumental effort from everyone involved. The lock's looking incredible, back to it's best."

He added: "It's a really inspirational project and we're so grateful for all the efforts of the volunteers and the support of the National Lottery Heritage Fund."

Witness appeal after woman sexually assaulted in Boston

A woman has been found in "a distressed state" following a suspected sexual assault in Lincolnshire, police say.

The victim was found on Mitre Lane, in Boston, following the incident, which took place between 16:30 and 17:20 on 1 August, according to Lincolnshire Police.

The suspect is described as a white male, of slim build, with short, cropped, brown hair, carrying or wearing a hooded blue body warmer.

It's thought the man headed towards John Adam's Way via Pump Square following the assault.

A police spokesperson said: "We are urging anyone with information which could help our investigation to contact us."

Tuesday's Yorkshire and Lincolnshire weather forecast

This morning, it will be dry and bright with plenty of sunny spells.false

A few patches of cloud will develop in the afternoon, with the chance of some isolated showers in Yorkshire and heavy thundery downpours in Lincolnshire.

This evening, any showers will soon clear away leading to a dry and clear night:

Deal struck to keep Asylum steampunk festival in Lincoln

The future of a major steampunk festival has been secured after a deal to keep it in Lincoln for the next five years was agreed.

Copyright: Danny Lawson/PA Wire

The Asylum festival - held annually in August - attracts up to 100,000 people each year and is believed to be worth about £2.5m to the local economy.

Plans had been drawn up to hold a smaller event in Newark this year due to Covid concerns, but were scrapped after the host venue closed.

The festival will now return in 2022.

Organiser John Naylor said: "Lincoln has provided a spectacular backdrop for the steampunk community's creativity since 2009, so we are delighted to be able to return.

"Covid looked like putting the kybosh on absolutely everything - so to be able to come out the other side, with a plan to build and be more spectacular is just phenomenal," he said.

He added: "What I'm really hoping for is Lincoln will end up with a festival as big and world-famous as the Edinburgh Fringe."