Can Mel Gibson make a second comeback?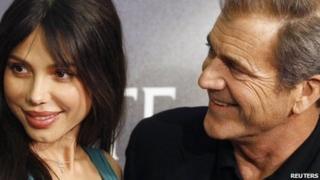 He was once the toast of Hollywood, winning an Oscar for Braveheart and breaking box office records with movies like Lethal Weapon and The Passion of the Christ.
But, if claims that Mel Gibson hit his ex-girlfriend Oksana Grigorieva turn out to be true, then the star's career could be in jeopardy.
A recording, which some US websites claim is the actor on the phone to Grigorieva, appears to capture Gibson using a barrage of insults, racial slurs and threats.
At one point, the voice on the tape appears to acknowledge an accusation of domestic assault.
So far, the actor and director has not commented on the allegations. His representatives have also refused to recognise the existence of the tape, which has been handed to police.
But if the star really is behind the recording, what does it mean for his future in the film industry?
Speaking to BBC Breakfast, director Oliver Stone said he thought Gibson could turn it around.
"I think they [audiences] would [forgive him] in time," he said.
"If he played someone hateful [or] villainous, people would buy it. If you find a way to make fun of your image you can flip it."
But Henry Fitzherbert, film reporter for the Daily Express, said the star had "crossed the line".
"I think he is pretty much finished as an actor, unless some extraordinary career damage limitation takes place.
"His agency have now dropped him after those comments aired and I think that's just an indication of how toxic he's become in Hollywood. No-one wants to work with him anymore."
But Andrew Wallenstein, writing in US trade paper The Hollywood Reporter, said that Gibson's career was far from over.
"As bad as things look now for Gibson, in time his misdeeds will fade into the rich tapestry of misbehaviour woven by the pantheon of American celebrities.
"Given the frequency with which celebrity scandal is reported, you cannot underestimate how numb the public is to all of this."
Indeed, many other Hollywood A-listers have bounced back bigger and bolder, after becoming embroiled in controversy.
Christian Bale barely flinched after his foul-mouthed tirade towards the director of photography on the set of Terminator Salvation was leaked.
And, just three years after a phone message of Alec Baldwin calling his 11-year-old daughter a "a thoughtless little pig" was made public, he was co-hosting the Oscars.
'Humbling and sincere'
But accusations of domestic abuse, if proven, would be a harder pill for Hollywood to swallow.
Linda Bell Blue, producer of Entertainment Tonight and The Insider, told USA Today she was not sure Gibson could repair the damage.
"I think it would have to take a very humbling and sincere public apology to gain his audience back," she said.
"And if the audience comes back, Hollywood comes back."
It does not help that Gibson has form.
In 2006, the star was arrested for drink-driving in California and made anti-Semitic comments to the arresting officer, who was Jewish.
Days later, the star apologised, admitting he had made comments that "I do not believe to be true and which are despicable".
Several appearances on US TV followed, with the actor revealing he had given up alcohol and was truly repentant.
"The last thing I want to be is that kind of monster," he told Good Morning America.
Support from A-list friends - including Jodie Foster, the late Patrick Swayze and Sigourney Weaver - helped him to restore his reputation.
This time around, however, "Hollywood is being very tight-lipped", according to Ms Blue.
"You don't hear anyone coming to Mel's defence," she added.
One exception has been Whoopi Goldberg, who spoke out in support of Gibson on US TV show The View.
"I don't like what he did here, but I know Mel and I know he's not a racist," she said.
"I have had a long friendship with Mel. You can see he's being a bonehead, but I can't say that he's a racist, having spent time with him in my home with my kids."
Nonetheless, PR guru Max Clifford told the BBC he thought it unlikely that Gibson would be able to make a fully fledged comeback.
"It's very difficult because it's happened before," he said.
"The only way is for him to admit he has got a real problem, to seek professional help, and to go on something like Oprah Winfrey and convince people that he has a real problem.
"The success of failure is how he comes across. The best damage limitation exercise for Mel Gibson is to convince people that he is genuinely sorry."
On the other side of the Atlantic, Hollywood image and media consultant Michael Sands told USA Today that the recent allegations were "not a career-ender" for the star.
He added that the episode could help "breathe new life into his acting career".
After all, he noted: "Hollywood likes to make a buck."