Couple guilty over actor John Stamos blackmail bid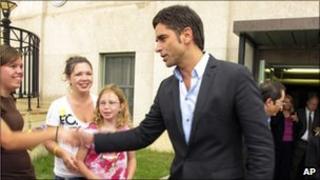 A couple have been convicted of trying to blackmail John Stamos for $680,000 (£441,000) claiming they had photos of the actor with cocaine and strippers.
Allison Coss, 24, and Scott Sippola, 31, of Marquette, Michigan, were found guilty of threatening to sell photos to the tabloids unless he paid up.
Former ER star Stamos, 46, said there were no incriminating photos and that the couple "lied about everything".
The defence said the photos disappeared after an FBI raid on their home.
The couple, who are due to be sentenced on 8 October, face up to five years in prison.
December arrest
The jury in the four-day trial heard that Mr Stamos met Coss - then 17 - in Orlando, Florida, in 2004 after he had separated from his ex-wife, Ugly Betty actress Rebecca Romijn.
Coss claimed that during that meeting, at a party in his hotel room, Mr Stamos snorted cocaine, sat nude with her in a hot tub and made advances towards her.
In a statement released after the verdict, Mr Stamos said: "There was no hot tub, no drugs, no nudity and nothing sexual in nature involved in my friendship with this woman."
After the party, Mr Stamos kept in touch with Coss by email.
The extortion plot was hatched when Sippola saw pictures of his girlfriend with Mr Stamos in Florida.
Coss and Sippola then posed as a man called "Brian L", emailing Mr Stamos to say he had been offered $780,000 (£506,500) for incriminating pictures of the actor after a tabloid bidding war.
They told the actor, who appeared in US TV sitcom Full House from 1987 to 1995, he could buy the pictures for $680,000 (£440,800).
Mr Stamos contacted the police who arrested the couple in December.
FBI agents told the court searches of their home, vehicles and computers failed to turn up evidence of any pictures.
The couple's defence lawyers had said it was not a crime to offer images to Mr Stamos before going to the media.