Cline songwriter Hank Cochran dies aged 74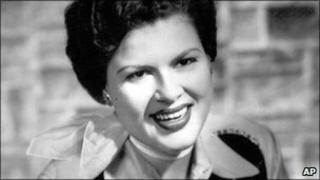 Songwriter Hank Cochran, who penned hits for country singers including Patsy Cline and Eddy Arnold, has died aged 74 at his home near Nashville.
His family said he died of pancreatic cancer. Friends including Bill Ray Cyrus visited the house the night before his death and sang with Cochran.
He wrote US hits including Cline's I Fall to Pieces as well as George Strait's Ocean Front Property.
Cochran also enjoyed solo singing success in the 1960s.
He was inducted into the Nashville Songwriters Hall of Fame in 1974.
In an interview on the hall of fame's website, Cochran said: "I have a theory that somebody beside me must write my songs because half of the time I don't have the slightest idea where they come from.
"I even wake up out of a dead sleep and write a song completely."
He also gave country superstar Willie Nelson his first big break and successfully lobbied his record company, Liberty, to sign the singer.
Cochran was formerly married to Grand Ole Opry star Jeannie Seely.