Jon Gaunt's internet radio show is pulled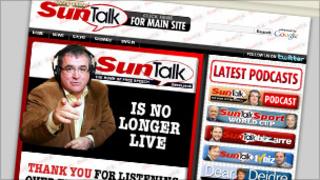 Broadcaster Jon Gaunt's internet radio show SunTalk has been pulled.
The station, which is affiliated with The Sun newspaper, started in April and aired every weekday for three hours.
In a message posted in the network's website, it said: "SunTalk is no longer live. Thank you for listening over the last 18 months."
The closure of the station comes days after Gaunt lost a legal bid to challenge Ofcom's decision to uphold complaints against him.
The radio presenter was sacked by Talksport after insulting Redbridge councillor Michael Stark live on air.
The pair had been debating the council's decision to ban smokers from fostering children when Mr Gaunt called Mr Stark a "Nazi", a "health Nazi" and an "ignorant pig".
Although Gaunt apologised, 53 people still complained to Ofcom, which censured the host under its rules on offensive material.
A News International spokesman said: "News International can confirm that SunTalk has closed. This was a business decision taken as part of an ongoing review of costs and strategy to focus on core operations."