British teenager lands Neighbours role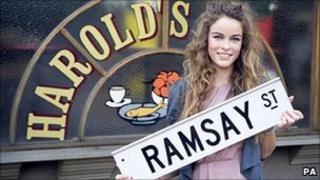 A teenager from Essex has won a competition offering a part in the Australian soap Neighbours.
Gabriella Darlington, 18, will guest star as Poppy Rogers in the long-running show after winning Five's Be A Star On Neighbours contest.
The Essex student will start filming her four-week stint on Monday.
"I can't believe how lucky I am. I never expected to be shortlisted, let alone get to Australia and win," she said.
Producer Neal Kingston said casting decisions were made because Darlington "ticked all the of the boxes".
In her audition video, the teenager told producers she was "leaving school this summer" and "going travelling before Uni, so I'd love to start in Australia and Neighbours".
She beat 1,600 hopefuls to the prize, and has spent the last week in Melbourne with the cast and crew, visiting the set and being screen tested.
"I have had an amazing week and am really excited to start on Monday," she said.
Darlington, who has no previous acting experience, will appear on UK screens from 10 November.
A special programme documenting her visit to the set with another finalist will be broadcast the same week.