Ife evicted from Big Brother house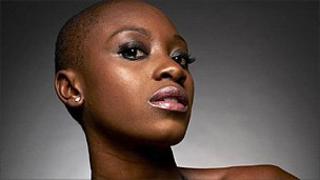 Ife has become the latest contestant to be evicted from the Big Brother house.
The 25-year-old dancer from Milton Keynes received five nominations - the most in the house - and 56.5% of members of the public voted for her to be evicted.
Before leaving to be greeted by a mixture of boos and cheers, the former Cheryl Cole backing dancer told fellow housemates: "I feel all right".
She had been up for eviction alongside fellow contestants Corin and Mario.
Fellow housemate Caoimhe was originally nominated but chose Mario to take her place after winning a task.
The 22-year-old earned the chance to escape eviction after triumphing in a cowboy paintball pistol duel on the Channel 4 show.
New housemates Keeley, Rachel and Andrew were exempt from nominations.
The three entered the house last Friday, when Yorkshireman Nathan Dunn was evicted.
Prior to the latest eviction, the show had 12 contestants left after squatter Shabby unexpectedly quit the house last week.
The 24-year-old, who had been saved from eviction by the public just days earlier, decided to leave after a dispute with other housemates at a party.