President's daughter gets summer job as a news anchor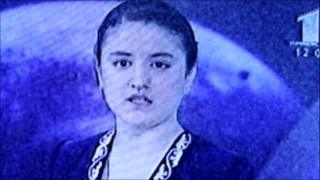 The 16-year-old daughter of Tajikistan's President has been given a summer job reading the news on the country's national TV station.
Zarina Rahmonova, who studies in the UK, made her debut on Wednesday, with a seven-minute bulletin read in English.
She had two weeks' training, during which time news programmes were moved around the schedule on the state run Channel One.
Zarina will work at the station for two months, until she resumes her studies.
Her news programme, aired on daytime TV, is targeted at foreigners living in Tajikistan and international viewers who can pick up the channel by satellite.
The channel's chief news editor, Khujanazar Aminiyen, said he was pleased with her performance.
But her new colleagues did not find out until the last minute that she would be joining them.
They said the TV studio was hastily spruced up and new carpets were laid before she arrived.
"You could sense that she was confident," commented Asliya Kurbanova, who reads the news in Uzbek.
"I hope there will be changes now that she has arrived. I hope, for example, that we will get professional stylists and make-up staff on this channel."
Censorship
Tajikistan has three other state-run TV channels. Channel One's news programmes are dominated by Soviet-style reports about official visits by the country's leadership.
Critical remarks are extremely rare. There is strict censorship - even if not officially acknowledged, observers say.
Certain topics, faces and names are deemed undesirable on state TV.
An independent media activist, Nuriddin Karshibayev, said Zarina's appearance as a newsreader was "not very practical, as the programmes are watched not only in Tajikistan but also abroad".
Zarina is one of the seven daughters of the Tajik president, Emomali Rahmon.
Her sister, Ozoda Rahmon, is Tajik deputy foreign minister. Ozoda's husband Jamoliddin Nuraliyev is deputy finance minister.
This year the president's eldest son, Rustam Emomali, was elected as a deputy in the Dushanbe city assembly (Majlis).