Inception has dream opening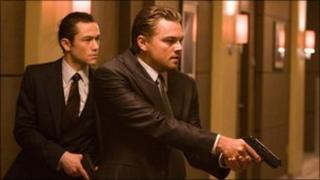 Christopher Nolan's Inception has topped the North American box office taking $60.4m (£39.5m) on its opening weekend, according to studio estimates.
The thriller, about thieves who steal secrets from dreams, knocked animated 3D film Despicable Me off the top spot.
It was Leonardo DiCaprio's best opening weekend, beating $41.1m (£26.9m) taken for Shutter Island in February. It is already being tipped for Oscar glory.
Disney's The Sorcerer's Apprentice opened at three with $17.4m (£11.4m).
Inception stars DiCaprio, 35, as the leader of a team that breaks into people's dreams.
Dan Fellman, head of distribution for Warner Bros, said: "We let all of the sequels and popcorn films come out and get the summer rolling, then we come in here with this original concept.
"We're in a good place to run now for the rest of the summer."
Speaking to the BBC News website, DiCaprio said the film did not rely on the "regurgitated plot structures" of usual summer blockbusters.
"It's nice to see films like this and other films which come out that take a gamble a little bit, and don't underestimate their audience, and challenge them."