Tom Jones goes back to his roots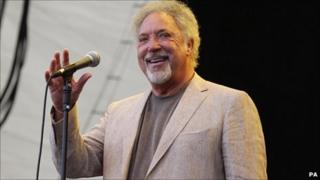 At the ripe age of 70, Sir Tom Jones has managed to court controversy with a new gospel and blues-tinged album, which caused one record executive to fire off some ill-advised e-mails to colleagues asking: "Is this some kind of sick joke?"
The record, Praise & Blame - a pared-down affair which sees a reinvented Jones covering artists like Bob Dylan and John Lee Hooker and working with folk producer Ethan Johns - showcases the voice, still powerful after five decades in the business.
As style changes go, it is a remarkable turnabout. Gone is the hip-swivelling, leather-clad disco-grandad, replaced by a more relaxed, loosely-attired and distinguished elder statesman of UK music.
A year ago, Sir Tom even stopped dying his hair and beard and embraced his natural grey.
"I like the colour of my hair now. Before, when I didn't dye it, it was a salt and pepper colour but the last time I left it, it came out white and I thought, 'Well, that's good'," he says.
Man in Black
Praise & Blame, due out on 26 July, sees Jones exploring issues of faith, sin and redemption.
It has drawn not unreasonable comparisons with the work of the late Johnny Cash, in particular the stripped-back American Recordings series in which Cash covered various artists including Depeche Mode and industrial doom-merchants Nine Inch Nails.
"I think the only real comparison is that some of the songs are similar and it's stripped down with just a few instruments, but I think this is more vibrant," Sir Tom explains.
Certainly songs Lord Help, by the relatively obscure blues artist Jessie Mae Hemphill, and the John Lee Hooker 1960 classic Burning Hell, are slices of old-fashioned rock and roll.
"Some of the ballads are similar but the up-tempo stuff, it has more of a rocky nature, it's more hot gospel," he agrees.
For a man who used to hang around with Elvis Presley while he was alive, it comes as little surprise that Sir Tom also crossed paths with the Man in Black, Johnny Cash.
"I knew him quite well, he did my TV show and he was on it on about 1970 with his wife," he says.
"He was a lovely fella."
Label concerns
After nearly a decade with his career out of the limelight, Sir Tom had a brief resurgence in 1988 with his cover of Prince's Kiss with The Art of Noise. But it was another 10 years before he had a huge hit with his Reload album in 1999.
The chart-topping LP saw him reach a new generation of fans, working with younger artists including Stereophonics, Nina Persson of The Cardigans and Catatonia's Cerys Matthews.
Yet, Sir Tom's last few albums have been met with a muted commercial response, even when he returned to his horns-infused lounge-singing roots in 2008's 24 Hours, which barely scratched the UK album chart.
"I've been wanting to do this album for a long time but it's hard to get a record company to go along with you because most of them want hit singles and pop music which I have been known to do," he says.
"But Island Records asked if I would do a Christmas album and I thought this would be a chance to do more of a gospel album than hymns."
Sir Tom moved from EMI to Island in 2009 in a reported £1.5m deal. It was that deal which resulted in an e-mail, written by vice-president David Sharpe and subsequently leaked to the press, condemning Sir Tom's new musical direction.
The e-mail reportedly demanded colleagues "pull back this project immediately or get my money back".
Embarrassed apologies were quickly offered to the singer, amid claims the whole row had been a publicity stunt, something Sir Tom vehemently denies.
"You know, he's on the financial team there, he's not on the creative side," Sir Tom explains. "But people who read the article, they don't know that.
"It says he's one of the vice presidents or the vice president of Island Records. But he didn't have anything to do with the making of the album."
Critically, reviews of Praise & Blame, have been more positive, praising the "raw, rugged" sound of the album.
And a recent performance of the album in its entirety at the Latitude festival, caused chaos when thousands of fans tried to watch a late night "secret" performance on one of the smaller stages.
As for the future, it remains to be seen whether this new dignified image of Sir Tom will eventually give way to the old-school Las Vegas showman callings of his earlier career.
What is less ambiguous, is the fact that Sir Tom has no plans on taking a much-deserved retirement.
"As long as my voice is still powerful, I'll sing. But if it starts to not be as good, then hopefully I'll have the sense... I think my voice will let me know, it always has done.
"I'm 70 years old now, but I don't feel it. I don't feel anywhere near it."
Praise & Blame is released in the UK on 26 July.