BBC apologises to Eamonn Holmes over weight jibes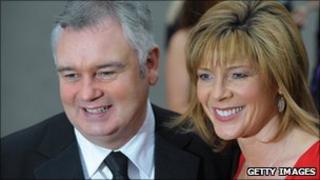 The BBC has apologised to TV presenter Eamonn Holmes after a comedy programme poked fun at his weight.
The Sky News and This Morning presenter sent a letter of complaint to the BBC after a series of sketches about him on Jon Culshaw's The Impressions Show.
Using the catchphrase "I was fierce hungry, so I was", Belfast-born Holmes was depicted by Culshaw eating a sofa, a jockey, and a vase of flowers.
A BBC spokesman said the humour was intended to be "affectionate".
He also confirmed Holmes had received an apology for any offence caused.
"We guard the right to make a show that pokes fun at public figures and our aim was for the humour to be affectionate, celebrating the figures chosen," the spokesman said.
'Odd situation'
Holmes, who has had a well-documented battle with his weight, was upset by sketches on The Impressions Show, which were broadcast late last year.
He initially seemed to take the sketches in good humour, but reportedly felt they went "too far".
In an interview shot for the BBC comedy website, Culshaw said: "There is always a bit of an odd situation for a few moments when you bump into someone who you've done a sketch about, especially if the script has been a wee bit cheeky.
"About two days after the Eamonn Holmes ones had gone out, whose show do we get booked on but Eamonn Holmes?
"We get into the dressing room and there was a card there from Eamonn saying 'there was going to be a present with this card but I ate it, so I did'."
Other celebrities lampooned on the series, which also starred Debra Stevenson, included singer Amy Winehouse and X Factor judge Simon Cowell.
A spokeswoman for Holmes said that following discussions with the BBC, the TV presenter was "happy to say that the matter has been satisfactorily resolved".