Daybreak on-screen line-up named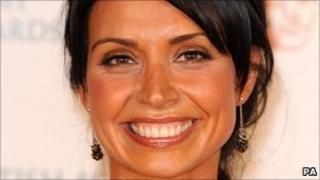 ITV has announced its on-screen line-up for its new breakfast show Daybreak, which launches in September.
Current presenter Kate Garraway and Sky News's Steve Hargrave will take over entertainment news, replacing Carla Romano and Richard Arnold.
John Stapleton, Richard Gaisford, and Dr Hilary Jones will remain and Grainne Seoige is to become features editor.
The show will be hosted by former One Show presenters Adrian Chiles and Christine Bleakley.
Ben Shephard and Andrew Castle are also leaving ahead of the relaunch.
Last month, Penny Smith bid a tearful farewell to the GMTV sofa, after working on the programme for 17 years.
John Stapleton will become the show's special correspondent, Richard Gaisford has secured the role of chief correspondent, Dr Hilary Jones will be health editor and Irish TV presenter Grainne Seoige will join Daybreak as features editor.
Romano, who is based in Los Angeles and regularly reports on the entertainment news from there, said: "I can honestly say that the last ten years at GMTV have been like a roller coaster, exciting, scary, hilarious and unpredictable.
"But most of all never dull. Here in LA I have interviewed and got to know some of the world's biggest stars, in fact I think I've managed to get through all of them."
Arnold, who covers TV news in the UK added: "I am very happy to take a break from getting up every day at the crack of the sparrows cough.
"Having said that, it has been a craic every day for ten years and I very much look forward to the exciting projects ahead. "
Director of GMTV Alison Sharman said the changes have been made because the show is currently "lagging behind its competitors".