Jeff Goldblum: The tall guy returns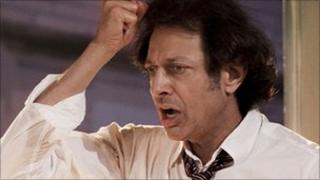 Jeff Goldblum may be one of the tallest actors in showbusiness, but he also appears to be one of the most modest.
"I do keep DVDs of movies I'm in, but I don't watch them," admits the Jurassic Park star as he settles his 6'4" frame onto a bar stool at the Vaudeville Theatre in London.
"I don't know why I keep them. I'm not a keeper of stuff," he adds with a shrug.
When I tell him I stayed up late the previous night watching a re-run of his 1986 horror hit The Fly, he's equally ambivalent.
"When I come across them on television, I might look for a second and then I flick by it. I guess it's nice that I see something and I think, I know how to do that better now."
There was a period in the 1990s when Goldblum had cornered the market in what he calls "smarty-pants scientists" in the Jurassic Park films and Independence Day.
But in 2010, Goldblum is back on the London stage in Neil Simon's dark comedy The Prisoner of Second Avenue - alongside Oscar-winning actress Mercedes Ruehl.
Two years ago, Goldblum starred alongside Kevin Spacey in Speed-The-Plow at the Old Vic. So how much persuading did he need to return to the London stage?
"None at all!" he says, with an enthusiasm that bounces around the room. "I thought it was my lucky day when Kevin Spacey and I talked and he said there was an opportunity.
"It was a no-brainer for me. I don't like those trendy phrases, but I loved the idea."
Goldblum says he did wonder whether to take a short break after an eight-month stint on New York police TV drama Law & Order: Criminal Intent.
Then he adds with a smile: "But here in London, it's like an acting camp/vacation."
Time machine
In The Prisoner of Second Avenue, Goldblum plays Mel Edison, a man who has a nervous breakdown after he is made redundant amid the stresses of an economic crisis and urban living.
For a play set in New York in 1971, the modern-day resonances are obvious. But do the London audiences get all that New York humour?
"I know! They seem to - I don't know what little trip they have to go through mentally. It feels like they're appreciating it."
The Prisoner of Second Avenue originally premiered on Broadway in 1971, starring Peter Falk and Lee Grant. It was made into a film in 1975, starring Jack Lemmon and Anne Bancroft.
By coincidence, Goldblum himself was on Broadway in 1971.
Having grown up in Pittsburgh, Pennsylvania, he went to New York after high school to study under acting coach Sanford Meisner.
He was in a musical version of Two Gentlemen of Verona on Broadway, with the Neil Simon play going on at the same time.
"I wish I could have a time machine and go back there in order to see it," says Goldblum. "I could have seen it and I didn't, dammit."
Goldblum's first movie credit was as Freak #1 in Michael Winner's Death Wish in 1974. (Amazingly, Goldblum can still name the actor who played Freak #2.)
Since then Goldblum's CV has grown to a vast length, encompassing films, TV and theatre. How consumed is he by acting?
"I do consider myself lucky that I've always had this thing since I was young that I've been passionate about, and that has occupied me feverishly at times.
"I wish I could be how other people do it - a bit more footloose and fancy free. I'm nothing if not conscientious. To do my best work it takes my best effort."
He likes to teach acting in LA when he is not working. "I like the classroom. I like to still watch acting. I like to still explore the craft of it."
Goldblum is also an ardent jazz pianist. "I have a piano in my dressing room and I have one in my hotel, so I'm playing a lot," he says.
"As soon as I go back to LA where I have a jazz band, I'll be booking myself into gigs. I think I've improved a little. The acting stimulates me and then I sit down at the piano and play play play play."
Goldblum also has two films due out later this year. The Switch sees him alongside Jennifer Aniston and Jason Bateman in a comedy about a sperm donor.
In Morning Glory, he appears with Harrison Ford and Rachel McAdams as the boss of an American TV network.
Shouldn't someone of so many talents have an autobiography?
"This is it," says Goldblum pointing to my voice recorder. "This as much of my story as anyone wants to hear without boring myself. No, I don't think so, I'm not such a writer anyway. Not yet."
But has no one asked him to write one? "Not really, seriously. And I don't know if it would be a great story or not. It might be kind of boring."
The Prisoner of Second Avenue is at the Vaudeville Theatre until 25 September 2010