Big Brother evictions are pulled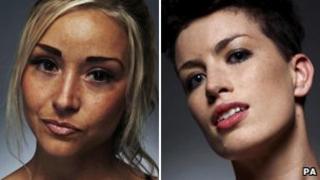 There will be no eviction on reality show Big Brother this week, after one contestant quit and another was taken to hospital.
Channel 4 said: "Due to Caoimhe's departure and Keeley's absence from the House, this week's nominations have been deemed null and void."
Keeley fractured her ankle while trying to climb out of a bath dressed as a spider, during a challenge on the show.
Caoimhe said she wanted to leave the house because she missed her boyfriend.
"I've had some amazing highs and some lows, but I know I'm making the right decision for myself," she said.
Presenter Davina McCall had been scheduled to interview the Irish student on Wednesday night's show, but was forced to pull out after being caught up in air chaos in France.
Channel 4 said: "Producers have done all they can to get Davina to Elstree to present the extended show tonight, but due to a strike by French air traffic controllers it was not possible for Davina to get back in time."
McCall will instead conduct the interview with Caoimhe on Friday.
Meanwhile, Keeley has spent the night in hospital after initially being treated on the Big Brother set in Elstree.
In a statement, Channel 4 said: "Keeley has fractured her ankle and is in hospital receiving treatment.
"She will remain in hospital for a couple of days as she needs an operation to mend the fracture.
"Together Keeley and Big Brother producers will discuss whether she will return to the show once she is feeling better.
"We all wish her a speedy recovery."