Bollywood flops take-off on TV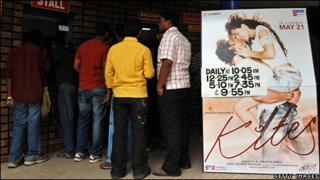 Indian television channels are now showing new Bollywood movies while they are still being screened in cinemas.
Kites, starring Indian heartthrob Hrithik Roshan and Mexican actress Barbara Mori, was one of the first films to be put on pay-for-view within four weeks of its theatre release.
The film, set against the backdrop of a Las Vegas casino, is filled with romance, passion, high-speed car chases and spectacular dance sequences. Yet it was considered a flop at the Indian box office.
Despite the lukewarm commercial response, it pulled an audience of up to 20 million when it was shown on television - resulting in a 20% increase in ratings for the Colors TV channel.
Bollywood actor Alyy Khan, who starred in the film Luck By Chance, says "people want value for money, so many just waited for the movie to be shown on the premium channel".
Recent Bollywood releases are hot property for Indian entertainment channels like Colors TV, which is buying them for millions of rupees.
"The viewership numbers are phenomenal," says the channel's director Gaurav Ghandi.
He also believes it's a great way for producers to claw back some of the money.
"The maximum profits made from the theatre usually happen within the first few weeks of a film's release," he adds.
"So, it makes sense to get the movies on to television much earlier".
Film distribution
Many in the industry, including Kal Ho Na Ho director Nikhil Advani, believe showing films on the small screen is a "reality that film makers have to come to terms with".
He says in today's world, there is a "new format for delivering films", which includes mobile phones and the internet and people should "embrace it, rather than fight it".
He says "producers will have to take another look at budgets when making movies".
Advani, who recently visited the UK to shoot Patiala House - about a British Asian family - believes there is a certain appeal about watching films in the comfort of one's living room.
"Nowadays, people have big TV screens and a whole family can watch a pay-per-view movie sitting at home, eating and drinking whatever they want," he says.
Negative reaction
The trend to show newly released films is set to continue with big budget movies like Rajneethi, starring Bollywood superstar Katrina Kaif in the role of Sonia Ghandi, and Raavan - starring Abhishek Bachchan and his wife, former Miss World, Aishwarya Rai, due to air on TV soon.
But it's a cause for concern for many cinema-goers in the UK.
Student Mehreen Baig says: "The whole point of a film being shown in the cinema is to see how well it does at the box office.
"If films are shown on TV, many people will not go to the cinema and that's not a fair test on whether the movie is a hit or not."
Nineteen-year-old Bansri Chudasma agrees and says the concept will "take away the fun of going to the cinema, which will lead to closures."
Dr Rajinder Dhudra, a senior lecturer of film studies in Manchester, says some films just have to be seen on the big screen.
"When you're watching a Bollywood spectacle with its larger than life characters, colours, songs and dances - that experience cannot be replicated anywhere else but the cinema," he insists.
"The way to watch these films properly is as they're made for - on the big screen."
But Dr Dhudra says we are "in a world of media convergence where inter-media is key", adding, "Cinema is no longer the predominant medium through which we watch films.
"Film content is now available on the internet as well as our mobile phones with the latest blockbuster being downloaded just a few weeks after release."
The trend could spread to Hollywood with major movie studios considering whether to let consumers rent new movies just 30 days after they have been released in theatres.
Indian film actor Alyy Khan says: "People now have a choice as to how they want to view their films. So, a movie like Avatar in 3D would still be watched on the big screen."