Three new housemates join Big Brother contest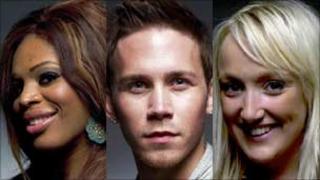 Three new contestants have entered the Big Brother house after being selected by the current housemates.
Make-up artist Jo, 41, sales assistant Laura, 20, and JJ, 23, a boxer who says he dreams of becoming a world champion, were chosen after videos from six aspiring housemates were shown.
There was no eviction on the Channel 4 show as two people had left this week.
Keeley departed after fracturing her ankle during a challenge and Caoimhe quit saying she missed her boyfriend.
Keeley spent Tuesday night in hospital after initially being treated on the Big Brother set in Elstree.
The travel agent injured herself while trying to climb out of a giant bath dressed as a spider, ironically in a task to save herself from the weekly eviction vote.
It had been hoped that she would be able to return to the house after treatment but after she underwent surgery, the housemates were told to collect all her belongings as she would not be returning.
Final series?
JJ, who is from London and also works as a barman, started fighting at the age of 13 and has won five out of his 12 professional bouts.
Jo, from Luton says she likes flirting with younger men and is happy to be labelled as a "cougar". She enjoys going to nightclubs and is keen to build a career as a DJ with the stage name DJ Naked.
Laura, from Stratford-upon-Avon, has a tattoo reading "live, love & laugh" on her hip and she says that is her motto. She works as a sales assistant but has never held a job for longer than eight months.
This year's Big Brother is the 11th and final series on Channel 4.
But newspaper and magazine proprietor Richard Desmond, who has just announced the purchase of channel Five's owner, is reportedly said to be thinking about reviving Big Brother on the network.