Jackie Chan talks kung fu fighting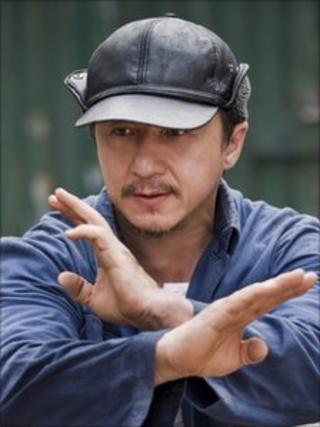 For someone who has made a living out of acrobatic combat, Jackie Chan comes across in person as a man with a warm handshake and his feet firmly on the ground.
And he is always smiling.
The star of more than 100 action films since the 1970s, Chan appears in UK cinemas this week as a secret kung fu master in The Karate Kid.
A remake of the 1984 original, The Karate Kid was released in the US alongside another slice of 80s nostalgia, The A Team.
The Karate Kid stars Jaden Smith as a 12-year-old  American boy Dre who moves to Beijing with his mother. (Jaden's real-life parents Will Smith and Jada Pinkett Smith were producers on the film.)
Unable to speak the language, and with few friends, Dre soon becomes the target of bullies. But things start to change when he learns kung fu - not karate - from a lonely maintenance man (Chan).
Chan admits that he has an affinity with the fish-out-of-water storyline, having moved from Hong Kong 30 years ago to make it big in Hollywood.
"It's exactly like me!" he says. "Except nobody bullied me. I went by myself to Hollywood, I spoke no English, every day I had to go to school."
And he says he got the same questions over and over: "Where are you from? Hong Kong. What's your name? Jackie Chan. Why do you come to Hollywood? I want to make kung fu movies.  Every day! Ah... just very very tough for me."
'Tiger-style hop'
Prior to his move to Hollywood, Chan had worked as an acrobat and stunt man, notably in the Bruce Lee movie Fist of Fury (1972).
Chan's stunt work established the comedic kung fu genre in the 1978 film Snake in the Eagle's Shadow. He found mainstream success shortly afterwards in Drunken Master.
The 56-year-old actor admits that in his younger days he had different priorities.
"When I was young I didn't care about education, just money and box office. People just copied all the bad things I was doing in movies."
Chan says that he tried to correct the image he gave out in 1978's Drunken Master ("I taught people how to drink and how to fight.") by making 1994's Drunken Master 2 ("Don't drink, don't fight.")
He adds: "I'm not a god - I do bad things. All those years I was learning.
"Right now the box office is not important - I want to do something meaningful - like The Karate Kid."
The Karate Kid, however, does not skimp on the violence. Kids kick each other senseless and young characters get bashed about by adults.
So what is the overall message of the movie for its young target audience? 
"When you are learning about a martial art, it is about respect," says Chan. "You have to find a good teacher. If you knock somebody down - stop. Bring them up."
One of Chan's stunt team taught Jaden Smith for three months before filming began in China last year. "He learnt jumping, tiger-style hop, the mantis. Jaden is really talented," says Chan.
"After the movie I told Will Smith: 'Don't waste your son's talent - continue training.'"
At the end of the interview, Chan turns to his young co-star and says: "Don't you forget me when you get famous."
With a talk of a sequel already in the air, Chan may well have found a young disciple to whom he can pass on the martial arts baton.
The Karate Kid is released in the UK on 28 July.