Elvis Presley post mortem auction halted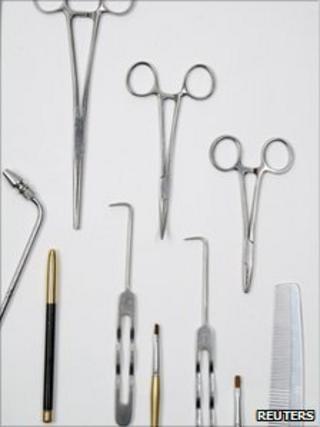 Instruments said to have been used during Elvis Presley's post mortem and embalming have been withdrawn from auction.
The tools - which include rubber gloves and a toe tag - were expected to fetch $14,000 (£9,000) at Chicago-based Leslie Hindman Auctioneers next month.
But the items have been returned to a Memphis funeral operator who says there is no way to prove they are authentic.
They were said to have been saved by an unnamed, retired embalmer for 30 years.
But president of the Memphis Funeral Home, EC Daves, told The Commercial Appeal newspaper in Tennessee that another employee told him the equipment was sterilized and used again.
A replacement toe tag reading John Doe was among the lots, the original having been stolen by a fan.
Mary Williams, a spokeswoman for Leslie Hindman Auctioneers, said: "Due to questions of ownership, the retired embalmer and his son have decided to turn over the property to the Memphis Funeral Home and its parent company, Service Corporation International."
Mr Daves said the funeral home had no plans to take any legal action if the items were returned.
Presley died in 1977 but continues to be one of the world's biggest-selling artists, earning $55m (£35m) last year, according to Forbes.com.