Mike Leigh attacks UK Film Council axe decision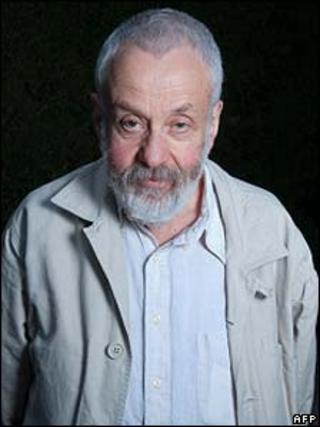 The Department for Culture, Media and Sport's decision to axe the UK Film Council is "totally out of order", according to film-maker Mike Leigh.
"It's very shocking indeed," said the 67-year-old. "It's from left of field in a very sudden and devastating way."
The British director is one of many to have received funding from the body, which has an annual budget of £15m to invest in British films.
According to Leigh, the announcement had come "out of the blue".
"It's remarkable and extremely worrying," added the director, whose films Vera Drake and Happy-Go-Lucky received Film Council funding.
"It really is no way to operate."
Current lottery funding for film is £26 million per year and is expected to increase to £32 million after 2012.
The DCMS said film funding would continue but would be distributed through other bodies, the names of which have yet to be announced.
Announcing the decision on Monday, Culture Secretary Jeremy Hunt said he wanted to establish a "direct and less bureaucratic relationship with the British Film Institute".
UK Film Council chairman Tim Bevan called it "a bad decision" that had been "imposed without any consultation or evaluation".
"People will rightly look back on today's announcement and say it was a big mistake, driven by short-term thinking and political expediency," he said on Monday.
Digital screens
Founded in 2000, the UK Film Council - which has offices in central London and employs 75 people - was set up by the Labour Government to develop and promote the British film industry.
During the last decade it has channelled about £160m of National Lottery money into more than 900 films, including Bend It Like Beckham, The Last King of Scotland and Streetdance 3D.
Its other initiatives included the Digital Screen Network, which invested in 240 digital cinema screens across the UK.
Yet it has also invested in a number of high-profile flops, among them the now infamous Sex Lives of the Potato Men starring comedian Johnny Vegas.
In a letter to the British film industry, John Woodward, Chief Executive of the Film Council, said he had been informed that "the target is to have the organisation totally closed down with its assets and its remaining operations transferred out by April 2012".
"That does, at least, give us time to honour our current commitments," he added.
Shadow Culture Secretary Ben Bradshaw accused the government cuts of being "hasty, ill thought-though and incoherent."
"The UK film industry has just had its best year ever, earning millions for our country," he said.
"But the government is axing the UK Film Council without saying what or who will do its important work."
Speaking on BBC Radio 4's Front Row programme on Monday, British film producer Stephen Woolley said it was a "ridiculous, short-sighted action".
"It's a real problem for some of our really great British films and budding young filmmakers," said the Mona Lisa and Crying Game producer.