Strong British showing at Toronto film festival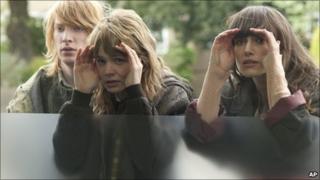 Movies starring British actors Carey Mulligan, Keira Knightley and James McAvoy will premiere at this year's Toronto International Film Festival.
McAvoy appears alongside Kevin Kline and Robin Wright Penn in Abraham Lincoln assassination story The Conspirator, directed by Robert Redford.
Knightley and Mulligan star in British drama Never Let Me Go.
British film Made In Dagenham, starring Sally Hawkins, will also premiere.
The festival kicks off on 9 September.
Mark Romanek's Never Let Me Go - which co-stars new Spider-Man actor Andrew Garfield - tells the tale of former boarding school pupils who confront their sheltered pasts.
Made In Dagenham, meanwhile, tells the story of sewing machinists at the town's Ford car factory whose strike over inadequate pay for women workers led to the introduction of 1970's Equal Pay Act.
East Is East sequel West Is West has its world premiere as does The Trip - Michael Winterbottom's Lake District road movie, starring Rob Brydon and Steve Coogan.
Trust, directed by former Friends star David Schwimmer, stars Clive Owen as the father of a teenage girl raped by a paedophile she meets online.
Mick Mills's Beginners, starring Ewan McGregor as a son who finds out his 71-year-old father is gay, and John Madden's The Debt, with Dame Helen Mirren and Sam Worthington, also premiere.
British-Australian film The King's Speech, featuring Colin Firth and Helena Bonham Carter, will also be shown.
Other films premiering at the festival include heist movie The Town, directed by and starring Ben Affleck, and The Way, in which Emilio Estevez directs his father, Martin Sheen.
Julian Schnabel's Miral and George Hickenlooper's Casino Jack, starring Kevin Spacey, will also premiere.