Musician Wyclef Jean considers Haiti leadership bid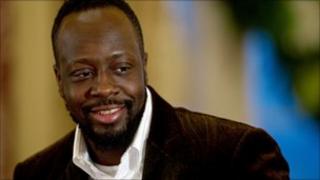 Haitian-born musician Wyclef Jean is considering running for president of the Caribbean country, his family say.
But The Fugees star, who was appointed ambassador-at-large of the country in 2006, has not yet decided whether to seek a five-year term as leader.
Haiti was hit by a devastating earthquake in January which killed more than 250,000 people.
A family statement said Wyclef was "committed" to his homeland.
The statement was issued in response to rumours in Haiti that Wyclef is preparing paperwork for a bid in November's election. Candidates have until 7 August to register.
It read: "Wyclef's commitment to his homeland and its youth is boundless and he will remain its greatest supporter regardless of whether he is part of the government moving forward.
"At this time, Wyclef Jean has not announced his intent to run for Haitian president. If, and when, a decision is made, media will be alerted immediately," it added.
Current President Rene Preval is barred by the constitution from seeking a new term.
Wyclef, who lives in New York, is founder of the humanitarian Yele Haiti Foundation, and has played a prominent role in securing aid since the earthquake.
The singer and producer, best known recently for a string of collaborations with Colombian pop star Shakira, is hugely popular in Haiti where half of the population is under 21 years of age.