BBC coverage of devolved nations 'is improving'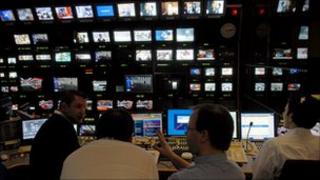 BBC news coverage of Northern Ireland, Scotland and Wales has "significantly improved", the BBC Trust says.
It follows a review published in 2008, in which the BBC was criticised for "falling short of its own high standards" and failing to meet its core purpose of helping inform democracy.
Since then, the number of national news stories about the devolved nations almost doubled, research suggests.
But there are still areas that require work, the trust said.
In particular, reporters do not always make it clear that changes to government policy may only affect England, or England and Wales.
The trust said it was looking for "speedy improvement" in this area.
However, it praised the increased level of stories from Northern Ireland, Scotland, and Wales, especially at a time when other broadcasters had recorded a fall in such reports.
The research was carried out by Cardiff University on behalf of the BBC Trust, which is the corporation's governing body.
It also found that overall the total number of references to the devolved nations in stories on television, radio or online during a four week period in October and November 2009 increased from 71 in 2007 to 480 in 2009.