Outnumbered actor Daniel Roche to star in Just William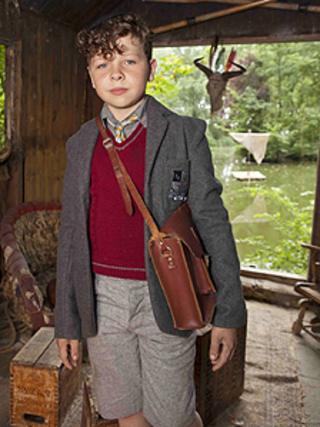 Outnumbered child star Daniel Roche - who plays naughty Ben Brockman in the BBC comedy - is to play the lead role in a new adaptation of Just William.
The 10-year-old will star in the adaptation of the Richmal Crompton books on BBC One later this year.
Just William will follow the exploits of 11-year-old tearaway William Brown and his band of adventurous "outlaws".
Rebecca Front, who appeared in The Thick Of It, and Daniel Ryan have been cast as William's parents.
Caroline Quentin and Warren Clarke star as new neighbours, the Botts.
The Just William collection of short stories was first published in 1922, after Crompton - a teacher, began writing in her spare time.
The William books are thought to have sold more than 12 million copies in the UK alone and generated numerous TV and radio adaptations.
New generation
CBBC Controller Damian Kavanagh said: "We are thrilled to have attracted such a wonderful blend of established stars and exciting new talent to breathe new life into these much-loved stories.
"I can't think of anyone better than Daniel Roche to bring loveable rogue William to the attention of a new generation."
Roche has won acclaim from critics and viewers for his role as lying, stubborn and hyperactive child Ben in the semi-improvised sitcom Outnumbered.
Head of CBBC Productions Steven Andrew added: "If you think Ben in Outnumbered is bad, you wait until you get a glimpse of William."