Sir Winston Churchill's archive to be made public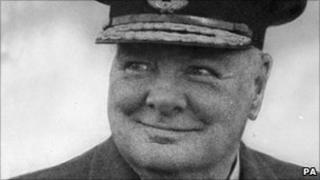 Sir Winston Churchill's entire archive of papers is to be published electronically in libraries for the first time.
The public will be able to access more than one million pages of documents including private letters and notes made by the former prime minister.
The archive, which is being published by Bloomsbury, will be online in 2012.
Bloomsbury's Nigel Newton said the archive was the "closest the UK has to a Presidential Library".
Among the papers are the drafts of his iconic "We shall fight on the beaches" speech, delivered to the House Of Commons in June 1940.
Less well-known items include Savrola, a novel Sir Winston wrote as a 23-year-old.
Bloomsbury described the story as the tale of "a dashing young politician with certain obvious similarities to the author".
Sir Winston's correspondence with suffragette Sylvia Pankhurst, and details of his copious personal bets with friends and political colleagues are also included in the archive.
The politician's biographer, Sir Martin Gilbert, said the collection was an "Aladdin's cave of historical riches".
He added: "I strongly endorse this project, which will enable everyone to have access to Sir Winston Churchill's writings and correspondence."
Bloomsbury is publishing the documents after reaching a deal with the Sir Winston Churchill Archive Trust and Churchill Heritage Ltd, which has agreed to make the papers public.
Sir Winston served as prime minister from 1940 to 1945, leading the UK through World War II, and served a second term from 1951 to 1955.