Sky set for 3D television launch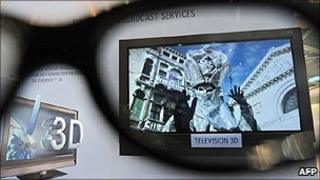 Sky's 3D television channel is to launch on 1 October with a mix of sport and movies, the broadcaster has said.
The station's debut will coincide with golf's Ryder Cup championship, while hit 3D movies including Monsters vs Aliens will be screened.
Sky's 3D service trialled in pubs from April, and is now available in more than 1,500 locations.
Sky+HD viewers with a 3D ready TV will be able to access the service, which requires 3D glasses to be worn.
HBO deal
It will be compatible with a number of 3D enabled sets from manufacturers including Sony, Samsung, LG and Panasonic.
Other 3D Hollywood films will be screened in the run-up to Christmas, including Alice in Wonderland and Harry Potter and the Half-Blood Prince.
Sky has said that, alongside a range of sporting events, including the Premier League, a range of 3D arts and entertainments shows would be announced closer to the launch date.
Meanwhile, Sky has struck an agreement with US cable channel HBO to broadcast its programmes in the UK.
Dramas including Luck, starring Dustin Hoffman, will be aired on Sky in the coming months.
The broadcaster has also secured the rights to HBO's back catalogue, which will be accessible on their on-demand services.
The programme-maker's past shows include The Sopranos and Six Feet Under.
Sophie Turner Laing, Sky's director of entertainment and news, said: "We are delighted to have partnered with one of the most renowned names in television."