Stephen Sondheim receives Proms ovation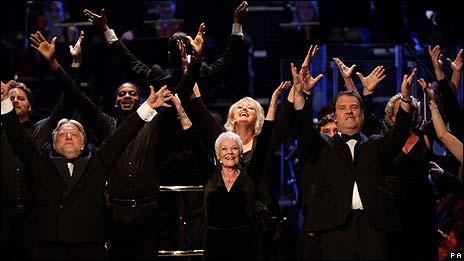 Broadway legend Stephen Sondheim was greeted with a standing ovation at the BBC Proms on Saturday at the end of a concert marking his 80th birthday year.
Oscar-winning actress Dame Judi Dench and opera star Bryn Terfel were among the performers at the event, held at London's Royal Albert Hall.
The concert featured numbers from Sondheim musicals such as Sweeney Todd, Into the Woods, Company and Follies.
Earlier the veteran composer said it was "exhilarating" to be honoured.
"There's very little as thrilling as a full orchestra in a reverberant hall," he told the BBC's Petroc Trelawny at a pre-concert question and answer session.
Broadcast live on BBC Radio 3 and shown later on BBC Two, the concert saw Dame Judi sing Send In The Clowns from A Little Night Music.
The 75-year-old later returned for the closing number, a rousing rendition of Side By Side By Side from Company performed by the ensemble with the BBC Concert Orchestra.
Terfel performed a medley of numbers from Sweeney Todd, recently filmed by Tim Burton with Johnny Depp.
The Welsh bass-baritone delighted onlookers later by taking part in a comic song from A Funny Thing Happened on the Way to the Forum.
West End stars Maria Friedman, Jenna Russell, Julian Ovenden and Simon Russell Beale also participated in the event, the first Prom to be signed for deaf concert-goers.
Queues for returns and day seats snaked along the surrounding streets prior to the concert, though not every seat was filled inside the Hall.
Sondheim, who took a tiny stumble as he made his way to the stage, was visibly moved as he embraced Dame Judi, Friedman and conductor David Charles Abell.
Among the other performers were beneficiaries of the BBC Performing Arts Fund, a charity funded by proceeds from public phone voting on such BBC One shows as Over the Rainbow and I'll Do Anything.
Since making his Broadway debut in 1957 as the writer of West Side Story's lyrics, Sondheim has become one of the most popular and revered figures in musical theatre.
A London revival of Into the Woods opens shortly at the Open Air Theatre in Regent's Park, while London's Donmar Warehouse is to stage his 1994 show Passion in September.