Inception holds firm in top spot at US box office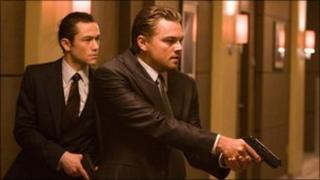 Leonardo di Caprio thriller Inception has held off competition from several new releases to stay top of the US box office for the third week running.
The film made $27.5m (£17.4m) over the weekend according to studio estimates, bringing its domestic total to $193.3m (£122.4m).
Steve Carrell comedy Dinner for Schmucks was the highest new entry at number two.
Action film Salt, starring Angelina Jolie, slipped one place to three.
Despicable Me, an animation also featuring Steve Carrell, was at number four with takings of $15.5m (£9.8m).
The second highest new entry, Cats & Dogs: The Revenge of Kitty Galore, entered the chart at number five with $12.5m (£7.9m).
The sequel's opening was a disappointment for Time Warner.
"We probably failed to create the same level of interest that we had in the original," said Dan Fellman, the studio's president of domestic distribution.
Nick Nolte, Roger Moore and Bette Midler are among the voices used in the film.
Zac Efron drama Charlie St Cloud was another new entry at six.
Toy Story 3 fell two places to seventh spot.
Grown Ups, The Sorcerer's Apprentice and The Twilight Saga: Eclipse rounded out the top 10.