Lowry auction expected to raise £5m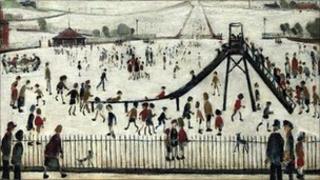 A private collection of works by LS Lowry is expected to raise £5m when it comes up for auction this autumn.
The 21 works are described by Christie's auction house as "the most important and extensive to be offered at auction in recent memory".
They are owned by bookmaking tycoon Selwyn Demmy.
The collection includes drawings and paintings of landscapes and seascapes as well as Lowry's renowned industrial cityscapes.
Mr Demmy began to collect art by Lowry in the early 1990s at the suggestion of the footballer Gary Owen. His collection of artworks date from the 1920s to the 1960s.
The entrepreneur said: "I was born around the corner from LS Lowry, in Cheetham Hill, and am a Salford man born and bred.
"For me, the works of Lowry have a very powerful personal resonance as they capture the heart and soul of the people and landscape which I have loved and lived in all my life."
'Stick dogs'
Mr Demmy added that art was not his only passion and he wanted to spend more time improving the lives of destitute animals.
"It is now time for these wonderful art works to bring joy, contemplation and friendship to new homes, whilst I focus my full attention on the animals which, like the famous and beloved stick dogs that scamper throughout Lowry's paintings, bring me great happiness."
Estimates for the Lowry works range from £10,000 to £700,000.
Mr Demmy's favourite piece in the collection is the 1945 painting The Playground, estimated to raise £500,000 to £700,000. The Steps, Irk Place, 1928 set to fetch up to £600,000 is another highlight.
Christie's said in a statement: "Christie's is delighted to be entrusted with this highly important collection which spans five decades of the artist's output and offers the most extensive overview of Lowry's work ever to come to auction.
"From early landscape drawings to extensive panoramas, Lowry's interest in every aspect of his beloved northern landscape and coastline is represented here, and this landmark sale is an opportunity for both experienced and new collectors to benefit from Selwyn Demmy's informed and passionate vision."
Entrepreneur Mr Demmy built up and sold several chains of bookmaker shops and also ran a boxing operation with his father.
The Christie's sale will take place in London on 11 November.