Katie Derham defends young female newsreaders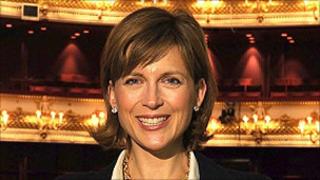 Television presenter Katie Derham has branded criticisms of young female newsreaders "arrant nonsense".
The former news anchor, who left ITN to host the Proms on the BBC, told Radio Times magazine that "women do exactly the same as male colleagues".
"No-one should underestimate how short a time we'd last if we were so dim," she added.
"This debate goes round in circles. Newsreading is not rocket science. It's a craft, like being a carpenter."
Recent years have seen allegations of ageism in TV newsrooms, with older presenters apparently jettisoned in favour of so-called "autocuties".
The BBC sought to counter the accusations last year by appointing older female newsreaders including Julia Somerville and Fiona Armstrong.
Derham said it was only natural for people to question younger presenters' abilities.
"I was first put behind a newsreader's desk quite young - 27," she said.
"Of course, people said, 'She's youthful. Does she know what she's talking about?' They'd do the same with a 27-year-old bloke.
"I'm on telly, so people are entitled to their conclusions about me. You can't control what they think. That way madness lies."
The presenter, now aged 40, also denied reports she was being paid £250,000 a year to present the Proms.
"It's a market place and if people negotiate a salary, good on them," she said. Everything written about mine is untrue."