Anish Kapoor 'dismayed' at arts funding cuts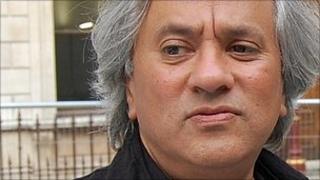 Artist Anish Kapoor has criticised proposed government cuts to arts funding, calling them "short-sighted".
The Indian-born artist said he was "dismayed" at the government's decision to cut millions from the arts budget.
He added he was "particularly worried" that museums and galleries would have to close.
Arts Council England said it would have to implement £23 million in cuts after its original 2010/11 budget went down from £468 million to £445 million.
"I have been very fortunate, and I fear that many others will not be so lucky if the government abandons the financial support that is so essential if the arts are to thrive," Kapoor said.
"I am particularly worried about the effect the proposed cuts are likely to have on museums and galleries, especially those outside London, some of which are likely to have to close.
"It seems short-sighted to me for the government to do such damage to the British cultural sector, which has made such a valuable contribution to the perception of Britain abroad."
The artist made the comments as details about his first major exhibition in India were announced.
Kapoor's works will be shown at the National Gallery of Modern Art in New Delhi and at a new space in Mumbai next year.
The exhibition is the first product of a "memorandum of understanding on cultural co-operation" between the UK and Indian governments, announced by culture secretary Jeremy Hunt last week.
'No innovation'
Meanwhile, former Young Vic Theatre chairman Martin Smith has called for the creation of an "Office of Cultural Economics" to help the arts better make their case to the government for sustained public funding.
In a report, Smith said the sector had no reliable basis to measure the impact which arts subsidies have had on the UK's wider economy.
"The evidence base that underpins policy making in the arts and culture sector, and the wider creative economy, is generally poor," he said.
"Given the scale of the contribution of the sector to the nation's economic life and its vulnerability to international competitive forces, this is a public policy weakness that requires specific and urgent remedy."
He also warned if funding was cut too much, "there will be no innovation or new work and therefore no stream of critical successes for private investors to back".