Ricky Gervais to revisit Simpsons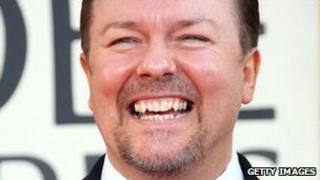 Ricky Gervais is to make his second guest appearance in The Simpsons, as part of an episode set around the Oscars.
The comedian previously played an office manager on the cartoon show in 2006 - in an episode he also wrote.
His next appearance will be a cameo, as himself, in early 2011.
"I recorded it last week. Didn't mention it as I don't like to show off. You know that. It's a fun episode," Gervais told comedy website Chortle.
He said that the recording session only took an hour, during which he managed to ad-lib and "insult an awful lot of people".
"It's weird that I can talk about popping up in The Simpsons so casually," he added.
"When I first got into comedy someone asked me what my ultimate ambition was. I said, 'to get a joke on The Simpsons'.
"I have been a very lucky boy indeed."
Gervais added: "Maybe one day I will actually know someone as stupid and bald as Homer. Although I doubt there is anyone in the world like that."
In the 2006 episode, Gervais voiced the part of a British manager who lived with Marge Simpson during a reality show.
He was invited to become involved by Simpsons creator Matt Groening, a major fan of Gervais' series The Office. It was the first time that a British writer had been invited to create an episode.
Daniel Radcliffe, Hugh Laurie and Halle Berry are among the other guest stars to appear in the 22nd series of The Simpsons, which begins on Fox TV in September.