Brain of Britain host Robert Robinson quits quiz show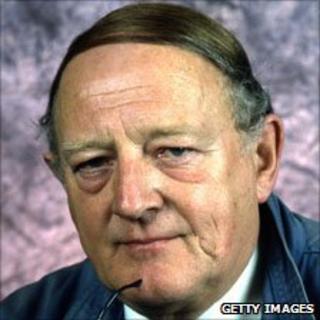 Robert Robinson, chairman of BBC Radio 4 quiz show Brain of Britain, is standing down after more than 30 years at the helm.
"It feels a bit like running away from home [but] on the other hand, one mustn't outstay one's welcome," the 82-year-old said.
Robinson took over from the original host, Franklin Englemann, in 1972.
Controller of Radio 4, Mark Damazer, said: "It has been a joy listening to him and he will be greatly missed.
"He has presided over Brain of Britain with sympathy for the contestants, wit and panache," he added.
'Formidable challenge'
Russell Davies, who has regularly stood in for Robinson, will replace Robinson as Brain Of Britain's host.
"To take over from such a well-known figure is a formidable challenge, but I'm hoping that his example will carry me through," he said.
Brain of Britain began as part of the show What Do You Know? in 1953 before becoming a programme in its own right.
The nationwide general knowledge contest sees 48 listeners from across the UK fight their way to the final. The prize is a silver salver and the title, Brain of Britain.
Robinson has enjoyed a long and successful career on Radio 4 - he has presented both the Today programme and Stop the Week.
He also hosted the popular BBC TV show, Call My Bluff.